ZHOUQU, China (AFP) – Rescuers in northwest China on Tuesday battled on with the grim task of searching for over 1,100 people missing in huge mudslides that have killed 337, but hopes faded that many would be saved.
At least three villages were levelled by an avalanche of mud and rocks triggered by heavy rains Saturday in a remote area of Gansu province -- the latest deadly disaster as China battles its worst flooding in a decade.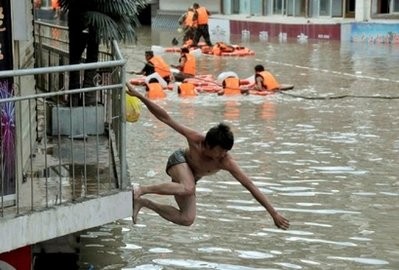 A survivor jumps into floodwaters as rescuers (background) evacuate people from flooded buildings in Zhouqu, causing flooding in northwest China's Gansu province on August 8, 2010. AFP
With more rain forecast for later in the week, Premier Wen Jiabao -- who comforted survivors of the devastation in hardest-hit Zhouqu on Monday -- urged rescuers to hurry but acknowledged the task would be an arduous one.
"We must fully realise the difficulties for the search and rescue work," Wen was quoted as saying by the state Xinhua news agency.
"You must race against the clock and spare no efforts in saving lives."
President Hu Jintao presided over a meeting of senior Communist Party leaders Tuesday on how to handle the crisis, Xinhua said.
Thousands of soldiers and rescuers armed mainly with shovels, hoes and rope hunted for survivors in Zhouqu, the county seat, where homes were torn apart and streets still buried in mud as deep as two metres (six feet) in places.
"My older brother is buried here. He was on the ground floor," Chen Xue, 45, told AFP, pointing at a house submerged in mud. Only the third floor poked through the sludge.
Chen said he had travelled a full day from neighbouring Sichuan province to try to find his sibling, who was doing construction work in Zhouqu.
"I will wait here until they bring him out," he said, acknowledging that his brother had likely died in the disaster, as rescue workers used shovels and picks to go through the mess, some with the help of sniffer dogs.
The landslides swept mud, houses, cars and other debris into the Bailong river running through Zhouqu, blocking the waterway and triggering flooding in the mountainous area, the government said.
The Bailong remained flooded on Tuesday, with only the tops of street lamps visible above the water line, an AFP correspondent saw.
The mudslides levelled an area five kilometres (three miles) long and 500 metres wide, Xinhua said. Floodwaters up to three storeys high have submerged half the county, where one third of the population is Tibetan.
Roads and bridges have also been destroyed.
Aerial photos published by state media showed Zhouqu essentially split in two by a massive river of mud.
In the centre of town, the pungent odour of death permeated the air. Residents wandered about, searching for their relatives. Tibetan women cried and chanted in mourning for the victims.
The death toll jumped to 337 Monday, Xinhua said, quoting Chen Jianhua, communist party chief of Gannan Tibetan Autonomous prefecture. Another 1,148 others were missing.
Chen said 218 injured survivors had been taken to local hospitals. More than 40 people with serious injuries were transferred to the provincial capital Lanzhou for treatment.
He told a press briefing that families of dead will be given a payment of 8,000 yuan (1,200 dollars) for each family member lost in the disaster.
In Zhouqu, residents queued for food and bottled water, an AFP correspondent saw. Tens of thousands were reportedly in need, and aid agencies were rushing supplies to the disaster zone.
Authorities have sent more than 4,500 soldiers, police, firefighters and medics to help in search and rescue efforts. Signs of life were heard on Monday, Xinhua quoted rescuers as saying.
More rain was forecast for the area from Wednesday.
The government had said more than 2,100 people were dead or missing nationwide in flood-related disasters before the Gansu mudslides. More than 12 million others have been evacuated from their homes.