Hong Kong police said Thursday they are probing Internet photos showing a group of policewomen in controversial poses, pointing guns at each other and pulling up their uniform skirts.
The photos, including one in which two policewomen touch a colleague's breasts, and another group dressed in their underwear, were splashed in the territory's Chinese-language dailies this week.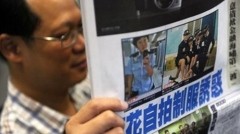 A man reads a local newspaper in Hong Kong featuring front page photos of police women posing in controversial poses
A police spokesman told AFP that an internal disciplinary inqury has been launched following the media reports. He confirmed the pictures were posted on the personal blog of a female police officer who he did not identify.
"The police are investigating this and we will take action if they are found to have breached any disciplinary rules or the police code of conduct," he said.
According to local reports, the female officer, said to be 25 years old, has uploaded over 100 photos since joining the force in 2007, on a blog billed as "the diary of a policewoman".
Controversial photos involving Hong Kong's police force are not new. Last November, a photo showing a policeman's relative pointing a handgun at him in jest was published in a local newspaper.
And in 2009 there was consternation over a series of photos showing a couple, both police officers, in romantic poses while on a bicycle patrol.