Teeming Hong Kong observed a mournful silence Thursday for eight tourists killed in a Manila bloodbath, after their bodies returned home amid mounting outrage against Philippine authorities.
The southern Chinese territory held three minutes of silence with flags lowered to half-mast at a special ceremony overseen by Hong Kong leader Donald Tsang and a large crowd of black-clad people on the city's harbour waterfront.
A tearful woman at the ceremony said she wanted to take care of two children aged 15 and 12 whose parents were killed in Monday's day-long hostage siege on a bus in the Philippine capital.
"My heart hurts. I hope the pain they feel will fade soon. I am willing to be the mother of the two orphans," the woman, who did not identify herself, told the Cable News broadcaster.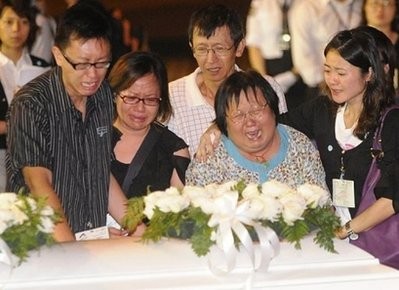 A family grieves at the airport in Hong Kong over the coffin of a victim of the Manila hostage crisis.
Staff from travel agency Hong Thai lowered their heads to mourn Masa Tse, the 31-year-old tour guide who was praised for alerting his Hong Kong office to the hijacking by cellphone from the back of the tour bus.
Emotions are running high in Hong Kong over blunders by Philippine police in the chaotic climax to Monday's events, when a disgraced former policeman held a group of Hong Kong tourists hostage for 12 hours.
The bodies of the eight tourists killed at the end of the siege -- including a father and his two daughters -- were on Wednesday night flown back to Hong Kong, with bagpipers playing "Amazing Grace" at a poignant airport ceremony.
Chek Lap Kok airport, one of Asia's busiest, took part in the three minutes' silence Thursday with tannoy announcements just before 8:00 am (0000 GMT) urging passengers and staff to pay their respects.
China's Xinhua news agency reported that Philippine Vice President Jejomar Binay and Foreign Minister Alberto Romulo were to head to Beijing Thursday to brief the Chinese government, before heading onto Hong Kong.
But officials in Beijing, Manila and Hong Kong said the timing of the visit was yet to be determined, as Philippine probes into the hostage crisis proceed.
Hong Kong Secretary for Security Ambrose Lee said "we will urge the Philippine authorities to conduct a thorough, just and transparent investigation and we want the report to be ready as soon as possible".
Hong Kong legislators were to debate the bloodbath later Thursday, with tempers in the territory frayed. Internet sites such as Facebook are awash with public anger against the Philippine authorities.
There are as many as 200,000 Filipinos living in Hong Kong, the vast majority of them working as maids, and union leaders have reported reprisals against the community by Hong Kong employers incensed at the hijacking.
The tragedy unfolded live on television, allowing viewers around the world to watch as ill-prepared Philippine police commandos failed in attempts to storm the bus before the tourists, and the gunman, died in a hail of bullets.
Philippine authorities have suspended four police officers and one is on leave as an investigation proceeds into key mistakes made in the protracted standoff.
The Hong Kong victims were aged from 14 to 58. Amy Ng, a survivor who lost her husband Ken Leung and two daughters in the shootout, has stayed behind in Manila as her 18-year-old son fights for his life in intensive care.
Autopsies on five of the victims showed they died from gunshots mostly in the head and neck.
But Philippine officials said further investigations were required to determine if the victims had been shot by the hostage-taker or by police.