HONG KONG, May 23, 2009 (AFP) - Hong Kong officials on Saturday confirmed two new cases of A/H1N1 flu, raising the city's total number of infections to six, local radio reported.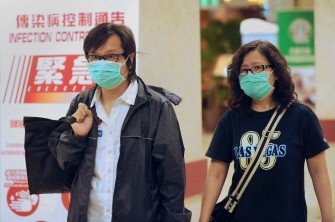 People wear masks as they visit Princess Margaret Hospital in Hong Kong on May 23, 2009 (AFP photo)
The two new patients, a mainland Chinese man from San Francisco and a Hong Kong woman studying in New York, arrived from the United States Friday night and were being treated in isolation at Princess Margaret Hospital, RTHK said.
They were detected by temperature sensors at the airport and sent straight to hospital.
Hong Kong's latest cases came nearly three weeks after officials confirmed Asia's first case of the A/H1N1 virus, which sparked a week-long quarantine for around 300 hotel guests and staff in the city.
More than 11,100 cases and 86 deaths have been recorded worldwide since A/H1N1 influenza emerged in Mexico and the United States a month ago.