Honda announced Tuesday the recall of an estimated 412,000 vehicles in the United States because of problems with "soft" brakes in the latest blow to the embattled Japanese auto industry.
Honda said the problem can result from air accumulating in a "vehicle stability assist modulator" which causes the pedal to get closer than normal to the floor before the vehicle stops.
This latest action comes a month after Japan's second-biggest carmaker recalled more than 437,000 vehicles worldwide to fix airbags that it said can explode and spray out potentially deadly metal shards.
In January, some 646,000 Honda Fit and Jazz vehicles were recalled worldwide because the power window switch could short out and cause a fire if too much water got into the door handle.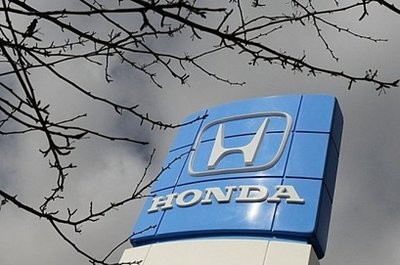 Honda has recalled some 412,000 vehicles in the United States because customers complained their brakes felt soft, the Japanese automaker said Tuesday.
Honda's latest recall affects 2007-2008 model years of the Odyssey minivan and boxy Element sport utility vehicle.
Honda said some accidents involving soft brakes were reported to safety regulators in the vehicles covered under the recall but that it was unlikely the soft pedal problem was a significant factor.
"There are three injuries reported to NHTSA for vehicles in this range but it's tough to link those injuries to this cause," Honda spokesman Chris Martin told AFP.
That's because the brakes continue to function long after they begin to soften and the softening process takes a long time to develop.
"It's a very slow progression because it's a tiny, tiny amount of air that gets in -- it's smaller than a drop of water," Martin said.
"Customers get a lot of warning."
If the problem goes untreated, however, the brakes could eventually stop working, Martin said.
Honda's woes come as Toyota is struggling to rebuild its once stellar reputation for quality and safety after a series of mass recalls due to faulty accelerator and brake systems.
Toyota has insisted that it has found a solution to defects that triggered the recall of more than eight million vehicles worldwide, including six million in the United States, and have been blamed for about 50 US deaths.
But critics have accused Toyota of intentionally hiding deadly defects from consumers and ignoring potential problems with its electronics.
The top Japanese automaker has been called to Washington to answer a congressional investigation and faces scrutiny by securities regulators and a US federal grand jury investigating whether there is sufficient evidence for criminal charges related to problems with Toyota's brakes and accelerators.
It has also been slapped with scores of civil lawsuits, including one last week from a California prosecutor alleging that Toyota ignored the reports of problems with its vehicles and deliberately misled the public.
Honda will be sending letters out to owners next month asking them to schedule an appointment to have the modulator sealed to prevent air intrusion.
"Although not all vehicles being recalled are affected by this issue, we are recalling all possible units to assure all customers that their vehicles will perform correctly," Honda said in a statement.