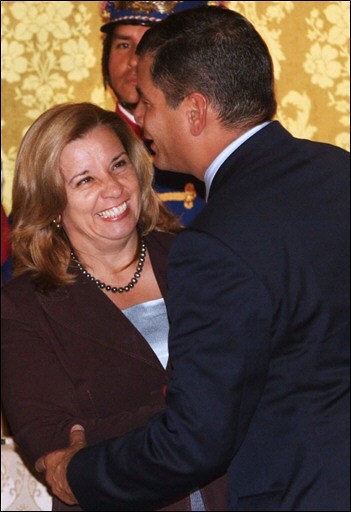 Defense Minister Guadalupe Larriva ( L ) and President Rafael Correa.
Ecuador's defense minister, Guadalupe Larriva, and her daughter have been killed in a collision between two military helicopters near a base on the Pacific coast, the president's spokesman said
.
"The Air Force confirms to us that the defense minister and her daughter died in an accident between two military helicopters. We are going to the area to find out the details of what happened," Monica Chuji, spokeswoman of the president's office, told AFP.
Larriva took office on January 15, becoming the first woman to serve as defense minister in the country.
Details of the accident were not immediately available.
Larriva was named as Ecuador's first woman defense minister by newly inaugurated President Rafael Correa, taking office on January 15.
A university professor and leader of the country's small Socialist Party, she was also one of only a few civilians to hold the post.
She had promised to strengthen presidential control of military ranks, improve salaries for the armed forces and make the promotions system more transparent in a country where the military had helped oust three presidents in the last decade.