Harsh winter weather swept across much of the United States on Wednesday, leaving scores of people dead, hundreds of thousands without electricity and threatening to decimate California's citrus crops
.
Most of the damage was caused by a powerful storm that churned across the country from the southwestern states of New Mexico and Texas to far northeastern Maine starting on Friday. At least 42 people died in car accidents on icy roads and carbon monoxide poisoning at home, common when people without electricity use fuel-burning stoves for heat.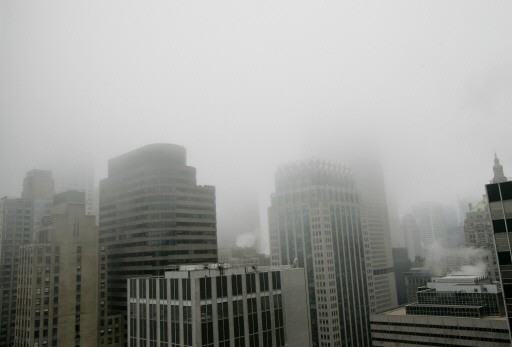 Fog and mist surrounds buildings in mid-town Manhattan in New York.
A separate icy snap in normally balmy California led California Governor Arnold Schwarzenegger to warn that the region's citrus fruit industry could lose crops worth up to one billion dollars.
California accounts for nearly a quarter of the US market for citrus fruits, according to state agricultural authorities. Avocados, green leafy vegetables, broccoli, strawberries and cauliflower also grow in the state and have been affected by the freeze.
Schwarzenegger asked the US Department of Agriculture in Washington to expedite any requests for assistance made on behalf of California's fruit growers.
The storm that covered much of the midwestern US was caused by a vast cold front that dropped temperatures by as much as 17 degrees C (30 degrees F) and brought wave after wave of freezing rain and sleet as it moved slowly eastward.
It weakened somewhat by early Wednesday, sparing the major East Coast cities of New York, Boston and Philadelphia from the worst of the ice and sleet.
"This is a big one, affecting all the way from New Mexico to Maine," said Dennis Feltgen, a spokesman for the National Weather Service.
Worst-affected areas were Oklahoma, where freezing rain left behind a sheet of ice, and Missouri, badly hit by sleet, he said.
"With the ice, the trees come down on the power lines, and in Oklahoma it's going to take the rest of the week to get all that restored," he said. "The lines are completely down. It's not like it's a transformer here and there -- it's the whole grid."
President George W. Bush declared an emergency in Oklahoma on Sunday, and Federal Emergency Management Agency workers were in the state handing out emergency supplies on Wednesday.
The Oklahoma Highway Patrol reported more than 300 road accidents in which 14 people were killed, including seven in a minivan crash Sunday.
The National Weather Service has issued storm warnings for central Texas, freeze warnings for California, Arizona and most of southern Texas, wind chill advisories stretching from New York to Maine, and flood warnings across central US from Louisiana, Kansas, Missouri, Indiana, Illinois and Ohio.
Forestcasters said there had already been ice storms in western parts of New York state.
Bush also declared a state of emergency for Missouri -- including the city of St. Louis -- on Monday, freeing up federal funding for recovery efforts.
More than 300,000 people lost power in the state due to downed power lines, and a utility worker was injured, Missouri state officials said.
Some 51,000 homes and businesses lost power in upstate New York after a heavy layer of ice covered the area Monday, National Grid spokesman Alberto Bianchetti said Tuesday.
While power will be restored over the next days in storm-stricken areas, the California freeze "is something that's likely to affect farmers and consumers for months to come," said Dave Kranz, a spokesman for the California Farm Bureau Federation.
Kranz said it was still too early to put a dollar figure estimate on the losses but acknowledged damage was "widespread."
The freeze could be a costly blow to the industry, said Tim Chelling with the Western Growers Association, a trade group representing 2,500 farmers and produce shippers in California and Arizona.
A two-night 1998 area freeze resulted in 700 million dollars in crop losses, he said. "This is already a five-plus night event with another cold front predicted in 10 days," he said.