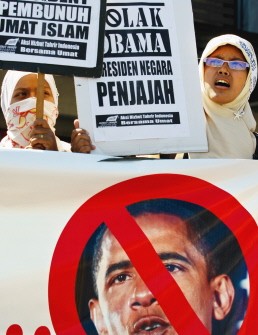 Indonesian women protest US President Barack Obama's upcoming visit in Banda Aceh, Aceh province, on March 14, 2010. AFP photo
JAKARTA, March 14, 2010 (AFP) - Thousands of Indonesian Muslims on Sunday staged peaceful rallies in cities across the country to protest US President Barack Obama's visit later this month.
Around 2,000 protesters from the hardline Muslim group Hizbut Tahrir, which aims to establish a Muslim caliphate, shouted "Islam united... will not be defeated. Reject Obama" and tore printouts of the American flag as they marched around the South Sulawesi capital of Makassar.
In Central Java's Solo city, another 500 of the group's supporters carried posters saying "Expel Obama.. leader of coloniser" and "America.. The Real Terrorists".
"There are two types of visitors, good and bad. Obama is bad. He might be of a different skin colour from George Bush, but he still oppressed the Muslims," the group's spokesman Nur Alam said, referring to former US president George W. Bush.
"He might have grown up in Indonesia, but that's no basis for not rejecting him. He is a cruel figure, his hands are full of blood and he has no sympathy," he added.
Obama is generally very popular in the world's largest Muslim-majority country as he spent several years of his childhood in Jakarta in the late 1960s.
He is scheduled to leave the United States on March 21 for the trip, which also includes stops in Guam and Australia.
Obama will seek to use his visit to Indonesia to build on a speech he gave last year to the Islamic world from Cairo urging improved ties with the United States, White House spokesman Robert Gibbs said last week.