At least 122 weapons recovered at crime scenes in

Mexico

have been linked to a US government weapons sting operation gone awry, two US members of Congress said in a report Tuesday.
Operation "Fast and Furious," run by the US Bureau of Alcohol Tobacco and Firearms (ATF), allowed some 2,000 weapons -- including .50 caliber sniper rifles -- to be sent into Mexico between 2009 and 2010 in an attempt to track gun smuggling routes. Of those, some 1,400 remain unaccounted for.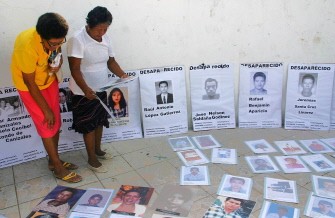 Members of the Caravan Step by Step to Peace spread pictures of their missing relatives on July 26, 2011 in Tapachula, Chiapas state, Mexico where the caravan arrived.
"So far, the Justice Department has provided documents that reference at least 48 separate recoveries involving 122 weapons" connected to the operation, read the report, issued by two Republican legislators, Representative Darrell Issa and Senator Charles Grassley.
Two of the weapons were found at the scene of the killing of Brian Terry, a US Border Patrol agent shot and killed in Arizona on December 14 while trying to arrest armed men preying on illegal immigrants.
The Mexican government of President Felipe Calderon has loudly complained about the program. Mexico estimates that 90 percent of the weapons seized from drug traffickers come from its neighbor to the north.
"The faulty design of 'Operation Fast and Furious' led to tragic consequences. Countless United States and Mexican citizens suffered as a result," read the report.
Several ATF agents reportedly opposed the operation, which has since been canceled.
Issa has said the program was approved at the highest levels of the US government, and has directly blamed acting ATF director Kenneth Melson and other members of the agency's leadership.
President Barack Obama in March said that neither he nor Attorney General Eric Holder authorized the program, and that the Justice Department is investigating the case.
In a Tuesday hearing on Capitol Hill, Issa -- chairman of the House Oversight and Government Reform Committee -- complained of what he described as "the administration's effort to impede this investigation," which "slows our work down."
Members of the US public "have a right to know, once and for all, who did authorize it and who knew about it," he said.
"These guns went to ruthless criminals," said Carlos Canino, the ATF acting attache to Mexico. "It infuriates me that people -- including my law enforcement, diplomatic and military colleagues -- may be killed or injured with these weapons."
"I believe what happened here was inexcusable -- and we in Mexico had no part in it," said Canino.
Jose Wall, an ATF special agent posted in the far northwestern Mexican border city of Tijuana, said he fears the guns "will continue to exact a terrible toll long after these hearings are over."
More than 41,000 people have been killed in Mexico's drug wars since president Calderon launched a crackdown in late 2006.
The leading Democrat on the committee, Elijah Cummings, said the ATF leadership took 10 months to close the program after problems first surfaced in March 2010.
But he also called on reforming US gun laws that allow weapons to be easily sold in border states and smuggled into Mexico.
Separately, the McClatchy-Tribune news service reported Tuesday that, according to diplomatic cables, US embassy officials in Mexico City had not been informed about the ATF sting program.