Militants armed with guns and grenades stormed the offices of a US-based Christian charity in Pakistan on Wednesday, killing five aid workers in an attack blamed on Islamist rebels.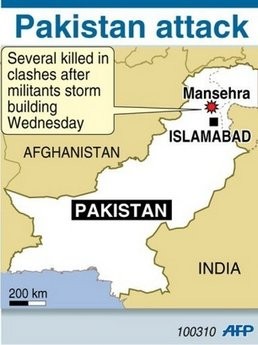 Map locating Mansehra district in Pakistan where militants stormed a building used by a US-based charity Wednesday. (AFP Photo)
The gunmen seized the World Vision building near the town of Oghi in the Mansehra district of North West Frontier Province (NWFP), where Taliban and Al-Qaeda-linked militants have waged a deadly campaign of attacks.
Police and World Vision's regional spokesman said five Pakistani staff, including two women, were killed and seven other employees wounded when up to 15 gunmen arrived in pick-up vehicles and began firing on the aid workers.
"They gathered all of us in one room. The gunmen, some of whom had their faces covered, also snatched our mobile phones," said World Vision administration officer Mohammad Sajid, who was in the office at the time.
"They dragged people one by one and shifted to an adjacent room and shot and killed them."
Rienk van Velzen, World Vision's regional communications director, told AFP by telephone from the Netherlands that all staff in the office were Pakistani.
"The sad news is that five local colleagues were killed -- three male and two female. We have seven colleagues injured," he said.
The organisation has been operating in the area since October 2005, when aid workers flooded into the northwest after a 7.6-magnitude earthquake killed more than 73,000 people and left about 3.5 million homeless.
But many charities have since left the area, as Islamist violence has soared. In February 2008, four aid workers with British-based group Plan International were killed in a similar gun and grenade attack in Mansehra town.
Police officials said the militants on Wednesday opened fire and detonated hand grenades at the site near Oghi, about 80 kilometres (50 miles) north of Islamabad, killing the five before disappearing into the hills.
"Police rushed to the area after receiving information about the attack, but the attackers managed to flee," senior police officer Waqar Ahmed told AFP.
"We chased them, there was an exchange of fire, but the gunmen escaped into the mountains."
Ahmed blamed the attack on "the same people who are destroying our schools" -- a reference to Taliban militants opposed to co-education who have blown up hundreds of schools across the northwest in the past three years.
"Now they want to disturb relief work in quake-hit areas," Ahmed said.
A wave of suicide and bomb attacks across Pakistan has killed more than 3,000 people since 2007. Blame has fallen on Taliban and Al-Qaeda-linked militants bitterly opposed to the country's alliance with the United States.
But Azam Tariq, a spokesman for the Pakistani Taliban, said he was unaware of Wednesday's attack, telling AFP by telephone: "I have no knowledge about the incident and would not like to offer any comment."
World Vision's website describes the group as "a Christian relief, development and advocacy organisation" founded by a US priest.
It says the aid group is "inspired by our Christian values", but stresses that the organisation does not proselytise or make aid conditional on a person's faith.
The United Nations decided last year to relocate a limited number of its international staff from Pakistan because of security concerns.
The UN's World Food Programme office in Islamabad was attacked last October, with five aid workers killed in a suicide bombing.
On February 3, a bomb attack in the NWFP district of Lower Dir killed three American soldiers and five other people at the opening of a school just rebuilt with Western funding after an Islamist attack.
In the northwest tribal belt on the Afghan border Wednesday, police found the bodies of two men accused by the Taliban of spying for the United States.