An ex-policeman armed with a high-powered assault rifle took hostage a tourist bus carrying adults and children, including a number of Hong Kong nationals, in the Philippine capital on Monday, police said.
Since the hijacking six hostages, including three children, have been freed, police said.
The circumstances or the motive behind the hostage-taking remained unclear, but negotiations were going on with the man, they said.
"We are still trying to determine the circumstances of the hijacking and what happened," Metro Manila police commander Director Leocadio Santiago said over DZBB radio.
"There are children and adults on the bus," he said. "He is armed with an M-16 assault rifle."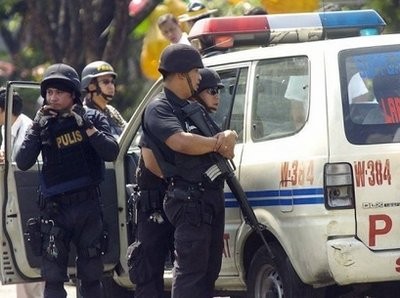 File photo shows a Philippine police SWAT unit standing guard in Manila.
He identified the suspect as Rolando Mendoza, a former police senior inspector discharged over allegations of robbery, extortion and drugs-related crimes.
The bus has been isolated and police have deployed commandos in the area, according to National police spokesman Senior Superintendent Agrimero Cruz, who said talks with the man had begun.
"Negotiations are ongoing," Cruz told reporters.
Television footage showed the bus parked in front of a grandstand at Rizal Park, a popular tourist destination.
The hostage-taking came hours after a South Korean man was killed in a separate attack by gunmen elsewhere in Manila. Police said the incidents were not related.
Santiago said the suspect, Mendoza, was sacked in 2008 after he was accused of various crimes.