The leaders of Russia and Germany will hold a joint cabinet meeting this week amid growing German dependence on the gas-rich country due to Berlin's recent decision to scrap
nuclear power.
German Chancellor Angela Merkel will host the 13th annual such get-together Tuesday with Russian President Dmitry Medvedev in the northern city of Hanover joined by major business delegations from both sides.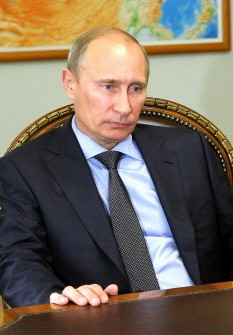 Russian Prime Minister Vladimir Putin attends a meeting at his office in the Novo-Ogaryovo residence, outside Moscow, on July 18, 2011.
The so-called government consultations were launched with the aim of deepening ties between the wartime foes and advancing the "modernisation" of Russia after the fall of communism.
Trade has exploded during that time despite criticism of Moscow's human rights record and accusations that Moscow uses state-controlled energy giant Gazprom for political purposes.
The close relationship was underlined Thursday with the announcement of an envisaged strategic tie-up between Gazprom and Germany's number-two utilities group RWE to construct power plants in Europe.
When asked if Berlin would promote such deals with foreign firms to meet its energy needs as it scraps its nuclear reactors by 2022, government spokesman Steffen Seibert said it was up to firms to plot their own strategy.
But he acknowledged: "We will need additional power plants, particularly gas-fired ones, to close the gap left by the elimination of nuclear power plants."
Weekly newspaper Die Zeit writes in its current issue that key partners such as France, Britain and the United States, already sceptical about the nuclear phaseout, are uneasy about greater German reliance on Russian gas.
Medvedev will arrive for an informal dinner with Merkel late Monday ahead of a welcome by a military guard Tuesday at a Baroque garden ensemble.
More than a dozen agreements on economic and environmental cooperation are to be signed, as well as business deals "covering the range of German-Russian cooperation," a German source said.
Germany is Russia's most important single trading partner. Russian exports to Germany reached 31.8 billion euros ($45.0 billion) last year with 26.4 billion euros' worth of goods going the other way.
The senior official, who spoke on condition of anonymity, said the talks would also cover "unresolved" human rights cases including the murder of reporter and activist Natalya Estemirova.
Germany, which currently holds the presidency of the UN Security Council, also hopes to convince Russia to drop its opposition to action against Syria over its bloody crackdown on protesters.
Berlin would also like to see Moscow toughen sanctions against Iran over its disputed nuclear programme.
Merkel, who grew up in communist East Germany, enjoys a warmer relationship with Medvedev than she did with his predecessor, current Prime Minister Vladimir Putin, who served as a KGB officer in East Germany in the 1980s.
"I think Putin reminds her of the Stasi (secret service) people with whom she had her problems in the GDR," Russia expert Alexander Rahr of the German Council on Foreign Relations told AFP.
"She has sort of pinned her (modernisation) hopes for Russia on Medvedev."
On Saturday, the jury behind a prominent German political prize bowed to mounting pressure and reversed a decision to honour Putin this year.
A spokesman for Putin, who was not to attend the Hanover talks, insisted the move would not harm bilateral ties.
Fyodor Lukyanov, editor of the journal Russia in Global Affairs, said the meeting would unlikely to be more than "routine" because Germany was distracted with the eurozone crisis and Russia was in political limbo.
"The internal political situation in Russia is unclear" because neither Putin nor Medvedev has said which of them will stand in presidential elections scheduled for March, he said.
"And this uncertainty is discouraging for Berlin and all other foreign partners who are tired of guessing" who will take the reins