SYDNEY, July 7, 2011 (AFP) - The future of budget airline Tiger Airways Australia was in serious doubt Thursday after regulators applied to keep it grounded until August, although the carrier insisted it would fly again.
Tiger was last Saturday barred from operating domestic flights for a week by the Civil Aviation Safety Authority (CASA) over "serious and imminent" safety risks and the regulator wants the suspension prolonged until August 1.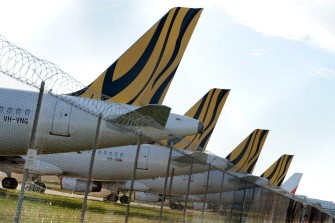 AFP (FILES) Tiger Airways planes sit on the tarmac at Melbourne Airport on July 2, 2011 after aviation regulators grounded the budget carrier
CASA approached the Federal Court in Melbourne on Thursday seeking an extension to give it more time to study the risks and Tiger's response.
"The application has been lodged," said CASA spokesman Peter Gibson, adding that more questions were being thrown up as investigators went through Tiger's books.
"We have to make sure we fully understand the reasons why these problems have occurred -- if they are systemic problems, problems with process and problems with safety systems."
In a statement, Tiger Airways Australia, a subsidiary of Singapore's Tiger Airways, suggested it would not oppose the move, while announcing that its Australian chief executive Crawford Rix will leave on July 31.
But it said it remained intent on returning to the skies after a grounding that is costing it US$1.6 million a week.
"Tiger Airways Australia is committed to working with the industry regulator and other authorities to resolve their issues, something we are confident we can do in the coming days and weeks," the airline said.
"We are optimistic of returning to normal services while reassuring the public, staff and stakeholders of our long-term commitment to Australia."
The airline said it would refund fares to passengers holding reservations up until the end of July and a spokeswoman added that the carrier "hopes our customers stand by us".
Rix, formerly at British low-cost carrier bmibaby, will be replaced by Tony Davis, the group president of Tiger Airways Holdings who was sent from Singapore to lead the talks with CASA.
Davis's former responsibilities will be carried out by Chin Yau Seng, executive director at the parent company, who joined Tiger from Singapore Airlines earlier this week.
Singapore Airlines has a 32.9 percent equity stake in Tiger Airways Holdings and said it was monitoring the situation.
"At this point we have no plans to reduce our stake in Tiger Airways," a spokesman told AFP in Singapore.
CASA grounded the airline after a flight approached an airport too low last week -- the second such incident in a month -- following warnings about pilot proficiency, training and checking, and fatigue management.
A preliminary investigation by the Australian Transport Safety Bureau into the first low-flying incident on Thursday said the error was due to an incorrect lowest descent altitude in the commercial navigational database.
It said the flight crew did not initially notice that the altitude displayed in front of them was 500 feet below what they had been cleared to fly.
While Tiger's shares in Singapore continued to slump, its main rivals in Australia are cashing in.
Virgin stock soared again Thursday with gains of more than 20 percent so far this week, while Qantas has notched up a weekly gain of over nine percent.
Sir Richard Branson, the largest shareholder in Virgin Australia, said he hoped Tiger would fly again.
"I think it's going to be tough to come back from that, but obviously for the sake of all the staff let's hope they manage to get their act together and be back in a month's time," he said in Sydney.