BANGKOK, March 15, 2010 (AFP) - Grenade attacks on a Bangkok military base Monday wounded two soldiers as tens of thousands of anti-government protesters massed at another barracks in the Thai capital, a military spokesman said.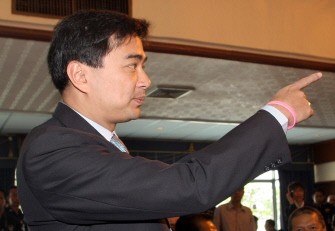 Thai Prime Minister Abhisit Vejjajiva gestures prior press conference at military base in Bangkok on March 15, 2010. AFP photo
Four M-79 grenades exploded at the base in the centre of the capital at 1:30 pm (0630 GMT), injuring one soldier in the arm and the other in the stomach, army spokesman Colonel Sunsern Kaewkumnerd said.
"Initially we suspect that the grenades were fired from a car," said Sunsern. "At the moment we have no information on the perpetrators."
The incident happened as crowds of red-shirted protesters massed in front of the 11th infantry army barracks on Bangkok's northern outskirts, where the government has been holed up, to press their demand for snap elections.