Greenpeace urged Japan on Tuesday to probe graft claims in its state-funded whaling programme, a day after two of its activists received suspended jail terms for committing theft during an investigation.
The environmental group has long campaigned for Japan to end its Antarctic whaling, which is carried out in the name of science under a loophole to a 1986 moratorium on commercial whaling that allows lethal research.
Activists Junichi Sato, 33, and Toru Suzuki, 43, were Monday convicted by the Aomori district court and handed suspended one-year jail terms for stealing a box of salted whale meat from a courier depot more than two years ago.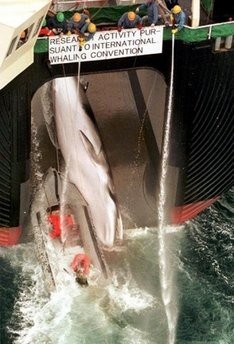 Two Greenpeace activists, aboard an inflatable boat, attach themselves to an illegally killed Minke whale, whilst it is winched aboard the Japanese ship, the Nisshin Maru, in Antarctic waters
The activists have appealed, arguing that they acted without criminal intent and without seeking personal gain but in the public interest to expose embezzlement in Japan's taxpayer-funded research whaling programme.
Greenpeace says the two acted after a tip-off from a veteran whaler who said meat from the ostensibly scientific whaling tours was being illegally sent to whalers, as well as to politicians and officials, for consumption.
Kumi Naidoo, executive director of Greenpeace International, challenged the year-old centre-left government of the Democratic Party of Japan (DPJ) to clear up what the environmental group contends is widespread graft in whaling.
"If the Japanese government, as it said before it got elected, is genuinely committed to fighting corruption... and believes that neither senior cabinet ministers nor senior members of parliament or senior civil servants are implicated in corruption and fraud, then they should have no hesitation to institute an independent investigation," Naidoo said.
"Failure to do so by the Japanese government will continue to unnecessarily aggrieve harm to Japan's reputation internationally, as I believe this case has actually done," he said at a Tokyo news conference