JAKARTA, July 26, 2011 (AFP) - A graphic video showing the last hours of a rare Sumatran tiger as it writhes in a trap in Indonesia exposes the gruesome toll of rampant rainforest clearing, Greenpeace activists said Tuesday.
Greenpeace Southeast Asia forest campaigner Zulfahmi said the trap was set up by villagers to catch wild pigs on a logging concession owned by Asia Pulp and Paper (APP), one of the world's biggest paper and packaging companies.
"The tiger died in a spot which is located on an APP concession. Due to land clearing by the company, the tigers have to leave their habitat," he told AFP.
"We urge the company to stop its land clearing activity in Indonesia... to avoid endangered animals becoming extinct."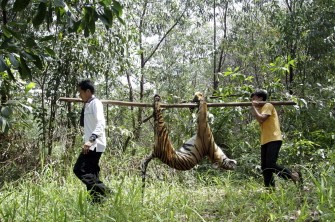 AFP - This handout image received from environment action group Greenpeace on July 26, 2011 and taken his month shows forest officers carrying a dead endangered Sumatran tiger after it was found caught in a wild boar trap and died while trying to be helped by officials, on the border of a pulp plantation in the province of Riau.
Estimates of the number of Sumatran tigers remaining in the world range from 300 to 400. Several die each year as a result of traps, poaching or other human actions.
The 18-month-old tiger died within three hours of being tranquillised by local conservation officials, said Greenpeace media campaigner Zamzami, who witnessed the incident.
The Greenpeace video shows the animal in obvious distress as it tries to pull its blackened paw free of the rope trap.
"The tiger died on July 1, seven days after it fell into the trap. It couldn't eat or drink, its paw had turned black already and there were many flies around it," Zamzami said.
Veterinary surgeons were called to the scene in Sumatra island's Riau province but were unable to save the tiger, he said.
A spokeswoman for Singapore-based APP said any suggestion that the company's operations resulted in the death of the tiger were "not only grossly inaccurate but deeply offensive".
"The death of any Sumatran tiger is a tragic situation. Unfortunately human-tiger conflict has long been a reality of life in Indonesia," spokeswoman Aida Greenbury said, putting the blame on local villagers.
A tiger conservation organisation that receives APP funding also blamed local people, dismissing environmentalists who say loss of habitat through deforestation is the main cause of dwindling tiger numbers.
"It's the local people who set up the animal trap. Unless APP set up the trap, then we cannot blame the company," Sumatran Tiger Conservation Foundation organiser Bastoni told AFP.
He said the tiger died "on the border of the acacia forest and the APP concession".
Greenpeace says logging by APP and other companies is destroying the tiger's habitat and driving them into ever closer and more dangerous contact with people.