TOKYO, Sept 2, 2010 (AFP) - Two Greenpeace activists will face possible jail terms in Japan on Monday for stealing a box of whale meat in a trial the environmental group says will test the country's limits on political activism.
Prosecutors have demanded 18-month prison sentences for each defendant, Junichi Sato and Toru Suzuki, on charges of trespass and theft, in a case that started more than two years ago with their arrests in dramatic Tokyo police raids.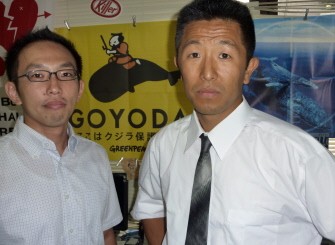 AFP file photo taken on August 25, 2010 shows Greenpeace activists Toru Suzuki (R) and Junichi Sato posing for a picture in the Greenpeace Japan office in Tokyo.
The two activists admit taking the box of salted whale meat, but say they acted in the public interest to highlight alleged embezzlement in the state funded "research whaling" which Greenpeace has long campaigned to end.
The case goes to the heart of whaling, which Japan defends as a tradition going back centuries, but which activist groups such as Greenpeace and Sea Shepherd, and countries including Australia and New Zealand, have long fought to abolish.
Commercial whaling was banned worldwide in 1986, but the following year Japan set up the non-profit Institute of Cetacean Research and has kept culling hundreds of the ocean mammals a year since under a loophole in the moratorium.
While the whales are killed in the name of science, Japan does not hide the fact that the meat ends up in shops, restaurants and on family dinner tables.
Greenpeace said it was contacted over two years ago by a crew member of one of the state-sponsored whaling ships, operated by private contractor Kyodo Senpaku, who was dismayed by what he saw as corruption and waste.
His fellow sailors were receiving boxes of whale meat, often mislabelled as personal belongings, after they returned from their annual Antarctic hunts, the unidentified whistle-blower said, according to Greenpeace.
Sato and Suzuki followed the trail, which led them to the depot of courier company Seino Transport in the northern port city of Aomori.
Suzuki walked into the facility on April 16, 2008 and took a 23-kilogram (50-pound) box labelled "cardboard and vinyl". In a local hotel room, he and Sato opened it before a running video camera.
"It was as if I had discovered parts of a corpse," Suzuki, 43, said at their trial, held in the same city. The box contained 10 salted pieces of "unesu", cuts from the whale's throat, underneath plastic and clothing.
A month later Greenpeace, after seeking comment from the Fisheries Agency which oversees whaling, handed the box to Tokyo District Prosecutors and called a press conference to publicise what the group saw as evidence of graft.
Weeks passed, during which officials explained the crew members were receiving boxes of whale meat as souvenirs. Then on June 19, the activists learned through the media of their imminent arrests.
The next morning, Greenpeace says, a total of around 75 police officers arrested Sato and Suzuki, raided the organisation's Tokyo office and the homes of five staff members, seizing computer hard drives and boxes of documents.
Four days later the Tokyo Metropolitan Government also opened an investigation into the activities of Greenpeace Japan, the group said.
While the embezzlement case was dropped on the day of the arrests, the two activists were taken to Aomori and held for the next 26 days, interrogated three times a day strapped to chairs without their lawyers present.
"If felt like I was in China or Vietnam, not Japan," recalls Suzuki, a former professional motorcycle racer, who went on a nine-day hunger strike but recalls feeling heartened by the support of Greenpeace members worldwide.
An official at the Aomori prosecutors' office declined to comment on the case, but said a news conference would be held after the hearing on Monday.
In court the prosecutor argued the activists had broken the law and may do so again, were self-righteous and had shown no remorse. He also cited financial losses to a courier company employee and damage to the firm's reputation.
While the case has rumbled through the court system, Greenpeace has labelled it a "political trial" in which the Japanese judicial establishment has come down hard on its local activists for breaching a national taboo.
The "Tokyo Two", as Greenpeace calls them, admit to the trespass and theft charges but have pleaded not guilty, arguing they acted without criminal intent or seeking personal gain but to expose the greater crime of embezzlement.
Greenpeace executive director Kumi Naidoo, a former anti-apartheid activist from South Africa who is travelling to Japan for the sentencing, said jailing the so-called "Tokyo Two" would have a "chilling effect" on citizen activism in Japan.