Thousands of protestors massed in central Athens Saturday against unprecedented austerity cuts the government is negotiating with the EU and IMF to escape the country's crippling debt crisis.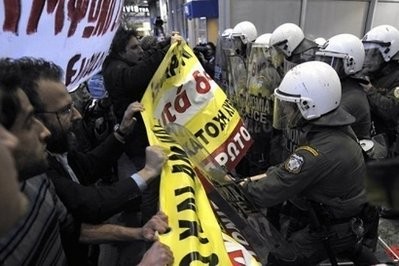 Riot policemen and demonstrators clash close to the finance ministry in Athens. (AFP Photo)
Unions and anarchists were expected to use traditional May Day celebrations to vent popular anger against the deep budget cuts as ferry and train services were halted due to striking sailors and conductors.
The protests added fresh pressure on the government as it raced to wrap up negotiations on Saturday with the European Union and the International Monetary Fund to slash spending and raise taxes in return for desperately needed loans.
Tensions have run high in recent weeks with police firing tear gas on Thursday at hundreds of demonstrators trying to march on the finance ministry to protest against the cuts. Further clashes erupted outside parliament.
Union leaders want the May Day protests to be a shot over the government's bow ahead of a May 5 nationwide general strike against budget cuts, which will hit public sector workers particularly hard.
"The country can not emerge from crisis if society has to cope with a brutal drop in living conditions to levels from 50 years ago," the head of the ADEDY public sector union, Spyros Papaspyrou, said late Friday after talks with several ministers.
The IMF and the EU have asked for Greece to slice off by next year 10 percentage points from a public deficit that reached 13.6 percent of output in 2009, according to a top union official on Thursday.
Finance Minister George Papaconstantinou described on Friday the three-year campaign to restore the public finances to health as "the greatest fiscal adjustment ever carried out in Greece."
Two polls showed Greeks to be divided between anger and resignation towards the shock therapy the EU and IMF are demanding in exchange for loans needed to keep the government from defaulting on past debt.
Nearly 80 percent of those questioned were against cuts in private sector wages but 50.6 percent considered that a lifeline from the EU and IMF was necessary, according to a survey of 1,256 people.
The same poll, conducted for the To Vima pro-government newspaper, found that 62 percent of Greeks are against protests unions have organised in recent months in response to the austerity drive.
However, another survey found that 51.3 percent of Greeks were ready to march against the cuts, based on a poll of 1,000 people by the Alco institute for newspaper Proto Thema.
With the government not due to outline the measures until Sunday, union officials who have spoken to Prime Minister George Papandreou have said the IMF and EU are demanding wage cuts, lower pension benefits and higher taxes.
They said the EU and IMF were demanding spending cuts of 25 billion euros (33 billion dollars) in the next two years on top of sacrifices already made.
The government aimed to conclude the talks on Saturday in order to be able to announce the details of what was agreed on Sunday morning ahead of a meeting of eurozone finance ministers in the afternoon in Brussels, a source said.
After months of hesitation, other eurozone governments are eager to secure a bailout for Greece to keep the debt crisis from spreading to other countries after Spain and Portugal saw their credit ratings cut this week.
Foreign banks are exposed to 236.2 billion dollars of public and private debt in Greece, nearly a third of it held by French banks, data from the Bank for International Settlements in Switzerland showed.
Of the total involving Greek debt of all types, a share of some 188.6 billion dollars was held by European banks, according to the BIS.