THESSALONIKI, Greece, Sept 12, 2010 (AFP) - Greek Prime Minister George Papandreou ruled out on Sunday any restructuring of the country's huge national debt, warning it would be "catastrophic for the economy".
"The logic of restructuring the debt would be catastrophic for the economy, for our credibility, for our future," Papandreou told a news conference in Thessaloniki where on Saturday he had sketched out his economic priorities.
If debt payments were suspended, he said Greece "would head towards a potential and probable collapse of the banking system and the loss of Greek families' property (which) would be a tragedy," he added.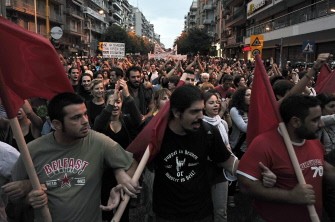 Protestors march towards Thessaloniki's International Fair where Greek Premier George Papandreou deliveried a keynote speech on September 11, 2010. AFP
Greece averted default on its debt in May when it agreed to unprecedented austerity cuts in pensions, public sector pay and a sales tax hike in return for a 110 billion euro (140 billion dollars) rescue package from the European Union and International Monetary Fund.
Burdened with debts close to 300 billion euros, the Greek government had little choice but to turn to the EU and IMF after a credit rating downgrade triggered a collapse of investor confidence that drove up Greece's cost of borrowing on the bond market.