World stock markets tumbled Friday as fears grew over the fallout from Greece's debt crisis, despite the approval by lawmakers in Athens of savage belt-tightening measures in the face of widespread unrest.
As leaders of the 16 nations which use the euro single currency gathered to discuss how to tame the turmoil, investors deemed efforts so far as inadequate with heavy losses on Asian markets echoing similar falls in Wall Street.
Greek Prime Minister George Papandreou on Thursday bulldozed a package of spending cuts and tax hikes through parliament with the help of his Socialist party's majority, as police battled hundreds of youth protestors outside.
Warning that "the future of Greece is at stake," he won backing for the plans, demanded by eurozone partners and the International Monetary Fund in return for a 110 billion euro (145 billion dollar) bailout.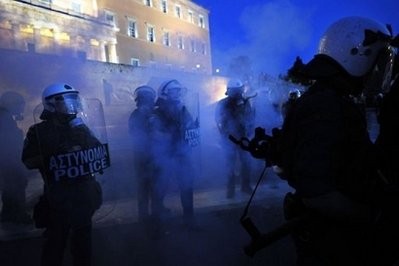 Riot police clash with demonstrators in Athens. World stock markets tumbled Friday as fears grew over the fallout from Greece's debt crisis, despite the approval by lawmakers in Athens of savage belt-tightening measures in the face of widespread unrest
"We can guarantee that with us the country will not go bankrupt," Finance Minister George Papaconstantinou said after the vote.
The austerity plan commits to spending cuts of 11.2 billion euros by 2012.
End of year bonuses will be scrapped for public sector workers as well as for pensioners. Value added tax is to be raised from 21 percent to 23 percent this year and other new taxes, including for gambling and company profits, are to be introduced.
The package has sparked widespread protests in Greece where a general strike on Wednesday was overshadowed by a firebomb attack on a bank which killed three people.
France early Friday approved 16.8 billion euros (21.2 billion dollars) in emergency state loans for Athens ahead of the European summit in Brussels to stem a domino effect in the countries that share the euro.
The loans carry a five percent interest rate and 3.9 billion euros will be made available next year.
The immediate worry for the 16 eurozone leaders when they hold a summit in Brussels later Friday will be whether economists are right to warn that the politicians are losing control of a spiralling European debt crisis.
Moody's ratings agency on Thursday warned that the fallout from the Greek debt crisis presented a risk of "contagion" for the credit rating of banks in Britain, Ireland, Italy, Portugal and Spain.
As Japan's Nikkei stock index closed its morning session down 3.74 percent, Prime Minister Yukio Hatoyama said he was "very concerned" and the central bank in Tokyo said it would inject more than 20 billion dollars in liquidity into financial markets.
And after the Australian market lost almost three percent in early trade, Prime Minister Kevin Rudd said his government was watching developments to restore market confidence with "considerable concern".
"Markets have judged those arrangements to be inadequate," Rudd said.
Asia's traders took their cue from a record drop of almost 1,000 points on the Dow Jones Industrial Average before it recouped more than half those losses on Thursday.
Nobel laureate economist Joseph Stiglitz wrote earlier this week that the Greek financial crisis "has put the very survival of the euro at stake".
A diplomatic source told AFP that a report compiled by a team led by former Spanish premier Felipe Gonzalez will this weekend recommend coordination of crisis-hit European Union public finance budgets.
They will include "a far greater push towards concerted action" on economic coordination, the source said.
In Lisbon, European Central Bank chief Jean-Claude Trichet battled to reassure financial markets that Greece's debt crisis would not end in default, but could not prevent the euro falling to a 14-month low against the dollar.
Pushed to the brink of default, the Greek government agreed last weekend to slash spending and hike taxes in return for the three-year loan package.
The bailout has sparked public rage, but people on the Athens street voiced anger and bitterness Thursday at the deaths of the bank workers -- who reportedly included a four-month pregnant woman.