ATHENS, May 20, 2010 (AFP) - Greek authorities deployed hundreds of extra police in Athens on Thursday as a new general strike against the government's austerity spending cuts caused widespread transport disruption.
The strike is the fourth called by unions since February against the wage and pension cuts and higher taxes ordered by the government.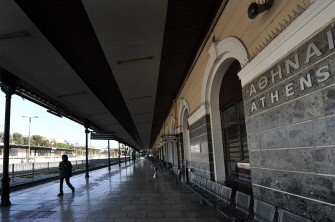 A woman walks at the empty Athens' train station during a 24-hour general strike on May 20, 2010. AFP photo
All of the major unions have called for rallies in the capital, Athens, and other cities.
More than 1,700 extra police were ordered into central Athens alone as authorities seek to avoid a repeat of troubles that have erupted during the last strikes.
On May 5, a petrol bomb thrown into an Athens bank on the fringes of one rally killed three employees.
The Athens metro railway, bus and trolley system all came to a halt Thursday turning the city into a giant traffic jam. In the main port of Piraeus, boats were all tied up in the harbour.
International flights were not affected as air traffic controllers decided not to strike, so as not to worsen the impact on the key tourism industry.
But Olympic Air cancelled at least 15 internal flights because civil aviation workers joined the stoppage at smaller local airports.
Some schools were open and the eduction ministry maintained national examinations for high school students. Some private banks in Athens opened as well despite a call by the main bank workers' unioin, OTOE, to join the strike.
The main labour federations, the GSEE with one million members, and ADEDY, 370,000 members, called the strike against the shock measures ordered by the government which needed a 110 billion euro rescue from the European Union and International Monetary Fund to avoid a debt default.
The minimum retirement age is to be increased and pensions reduced under the proposals which need a final vote in parliament later this month.