Greece on Wednesday drew 5.5 billion euros (6.9 billion dollars) from an emergency International Monetary Fund loan, becoming the first eurozone country to be forced to resort to the IMF for aid.
The money came as thousands of people marched through Athens in protest against the government's deal for a giant bailout from the European Union and the IMF totalling 110 billion euros in return for harsh budget cuts.
"Greece has accessed the sum without any problems, everything was done in close cooperation with the IMF.... Everything is under control," a top official from the finance ministry told AFP, speaking on condition of anonymity.
Faced with spiralling debts and a hammering on financial markets that threatened to engulf other European economies, Greece earlier this month was given the go-ahead to access the unprecedented financial rescue package.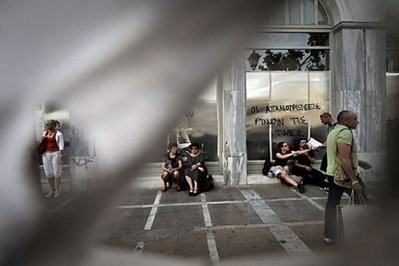 People sit outside a store during a demonstration against government's austerity measures in central Athens
Speaking at a cabinet meeting, Prime Minister George Papandreou said the bailout was "a great success for our country," adding: "The majority of the public, the citizens, accept the measures even though they are unpleasant."
Greek and Turkish officials have also suggested that the debt crisis could aid closer ties between the two historic rivals ahead of Turkish Prime Minister Recep Tayyip Erdogan's arrival in Greece on Friday for a two-day visit.
Greece's EU-IMF aid sparked a collapse in confidence in weaker eurozone economies among investors and forced EU leaders to agree on Monday to make a bailout fund of nearly one trillion dollars available for crisis-hit countries.
Greece desperately needs the money as it has been effectively blocked from international debt markets by the forbiddingly high rates demanded by investors and it needs nine billion euros to meet debt repayments due next Wednesday.
A finance ministry official said the government is expecting another loan tranche of 14.5 billion euros from the European Union early next week.
The budget cuts have set off a wave of protests. Some of the rallies turned violent and three people died last week in an Athens bank that was set alight.
Greece's two main trade unions, GSEE and Adedy, organised another rally in Athens on Wednesday that was attended by around 4,000 people, according to organisers. The police put the number of protesters at just over 1,000.
"Out with the EU and the IMF!" and "Uprising! Everyone in the Streets!" read placards held up by protesters at Wednesday's rally. Another read: "Down with the Market Junta!" -- a reference to Greece's former military dictatorship.
The unions also on Wednesday called for a national strike on May 20, which will be the fourth such stoppage since February and the second this month.
"The IMF will not stop asking sacrifices from people of labour. Its recipes are catastrophic. The government should categorically reject them," Yiannis Panagopoulos, chairman of the GSEE private sector union, said in a statement.
The economy meanwhile paused its downward slide with a contraction of 0.8 percent in the first quarter -- the same level as in the last quarter of 2009, according to a preliminary estimate issued by the state statistics agency.
"The figures were quite good. They were better than expected," said Constantinos Vergos, an analyst at Cyclos Securities in Athens, explaining this was partly due to reforms to curb Greece's rampant underground market.
The contraction also eased slightly on a 12-month comparison to minus 2.3 percent from a downwardly revised minus 2.6 percent last quarter.
But worse results are expected, with the government forecasting that the economy will shrink by 4.0 percent over the year as a whole.
The Athens stock exchange closed 0.82 percent up on Wednesday after losing 2.47 percent on Tuesday in line with a global drop in equities.
Some economists have warned the austerity measures will plunge Greece into an even worse recession and stifle growth but many say the reforms being enacted -- like the overhaul of the pension system -- are long overdue.
Labour Minister Andreas Loverdos said earlier that the pension system faces "collapse" in 2015 if there is no reform and this week put forward a radical reform bill expected to face a stormy vote in parliament later this month.