Thousands of Greek workers were due to strike Thursday, the second such protest in two weeks over the socialist government's austerity plan to solve the country's debt crisis.
Government offices, public hospitals and schools were to close as more than a million people were called out on strike and urged to join street protests.
They will join Greek tax and garbage collectors who have already been on strike since the start of the week.
Air traffic controllers were set to empty Greece's air space as they walked out joining a strike call by two powerful unions comprising more than one million members.
Ships were expected to remain anchored as the sailors' union joined the protest. Nor were buses and trams expected serve Athens and the second city of Thessaloniki throughout the day.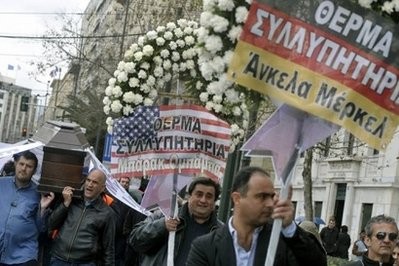 Striking municipal workers march with a coffin and wreaths in central Athens March 10.
The unions are outraged by a wave of state spending cuts and tax hikes intended to cut this year's deficit of 12.7 percent of output to get to grips with the country's debt of nearly 300 billion euros (410 billion dollars).
Similar protests last Friday, as the parliament pushed through the government's austerity package, degenerated into violence as police clashed with demonstrators.
Prime Minister George Papandreou got support from an unexpected source Wednesday, when the head of the country's employers federation came out in support of his socialist government's austerity measures.
"Between bankruptcy and recession, between the devil and the deep blue sea, there is no other alternative to the abyss" than the government's measures, Dimitris Daskalopoulos told reporters.
Tax hikes and spending cuts were "inevitable after many years of negligence," he added, denouncing the protesters who he said were protecting their own interests at the expense of the country's.
Papandreou was in Washington on Tuesday to call on US President Barack Obama to crack down on speculators who he said were trying to undermine his country's as it battled its way out of the crisis.
"This is very important to stabilize international markets and to not allow the crises that may occur, such as the one that occurred in Greece, to be used to create wider destabilization, either of the eurozone or of the world financial system," he said.
The Greek economy, which is mired in a recession, ran into more trouble on Tuesday when the national statistics agency reported the annual inflation rate jumped to 2.8 percent in February.
But there was better news from the central bank Wednesday, which reported that Greek budget receipts had risen in February for the second straight month.
The bank said receipts came to 4.184 billion euros (5.7 billion dollars) last month compared with the 3.938 billion euros in February 2009.
Unemployment currently stands at over 10 percent.