South Korea's top financial regulator, nominated to lead the finance ministry, on Wednesday vowed to make all-out efforts to address the household debt problem, source from Yonhap News.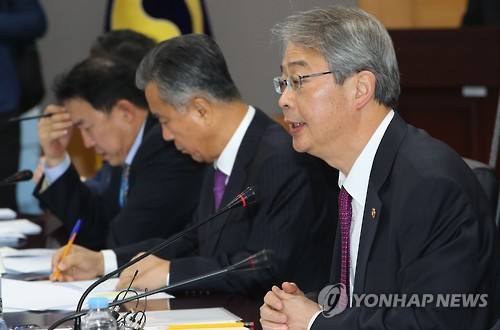 Yim Jong-yong, chairman of the Financial Services Commission, speaks during a meeting on financial reform at the Seoul Government Complex on Nov. 2, 2016. (Yonhap)
Yim Jong-yong, chairman of the Financial Services Commission (FSC), described it as a potential "core risk factor" especially as South Korea may have to raise interest rates some day.
"(The government) will manage more throughly than any other time," Yim said, presiding over a regular meeting on financial reform.
He has often stated the government's resolve to handle the matter effectively but his latest remarks clearly reflected a higher sense of crisis over risks from soaring household debts.
South Korea's household credit reached a record high of 1,257.3 trillion won (US$1.149 trillion) as of end-June, according to official data. Household borrowings, mainly home mortgage-backed, have continued to rise despite the government's measures including the control of new apartment supply.
In a recent report, the Bank for International Settlements (BIS) cited an "early warning indicator of a crisis" over the private debt growth of South Korea and some other Asian economies.
It said the problem "could sow the seeds for potential financial strains."
The Bank of Korea also warned Tuesday that South Korea's private credit will remain high for the time being due to rising household debts.
Speaking hours before the announcement of his nomination, the FSC chief stressed that the government will focus on preventing the private debt problem from evolving into "systemic risks."
He also called for the unswerving push for financial reform measures despite a political crisis gripping the country.
Concerns about leadership vacuum has grown amid the snowballing influence-peddling scandal involving Choi Soon-sil, a longtime friend of President Park Geun-hye.