GM Daewoo Auto and Technology, the South Korean unit of General Motors, is recalling more than 58,000 vehicles due to manufacturing defects, government officials said Sunday.
The recall affects vehicles sold in South Korea but will be expanded to include those sold abroad, according to GM Daewoo, the country's third largest carmaker. It gave no immediate idea of the size of the foreign recall, or which countries would be affected.
"GM Daewoo Auto and Technology has reported that it will recall 58,696 vehicles that it has made and sold in Winstrom, Lacetti Premiere and Damas models due to manufacturing defects," Seoul's ministry of land, transport and maritime affairs said in a statement.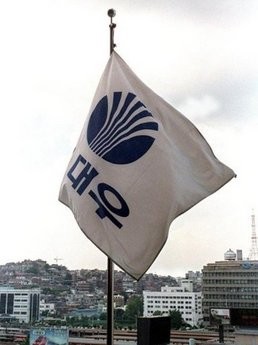 File photo of a Daewoo Group flag fluttering on top of Daewoo headquarters in Seoul
The recall will affect 45,957 Winstorm sport-utility vehicles, 12,604 Lacetti Premiere sedans and 135 Damas microvans, the ministry said.
Defective steering wheels were found in Winstorm models sold from 2006 to 2007 while flawed fuel hoses were discovered in Lacetti Premiere cars sold from 2009 to early 2010.
Damas vans sold in 2009 were found to have been manufactured with insufficient fire safety measures, it said.
The affected 58,696 vehicles were sold in South Korea, a DM Daewoo spokesman told AFP, adding that the recall would spread to vehicles sold overseas.
"A recall will be announced in other countries, where the models were exported, but we have yet to get you the exact figure," the spokesman said.
GM Daewoo sells the Winstorm and the Lacetti Premiere models as Chevrolet Captiva and Chevrolet Cruze models worldwide.