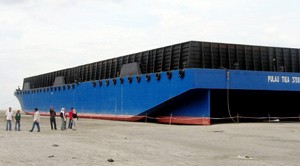 One of a huge barges beached near Pantai Jawa in Kuantan, Jan. 3, 2007.
Two "ghost ships" which were found beached on Malaysia's east coast have been identified as Singapore-owned barges which drifted away from a tugboat during a storm, reports said Wednesday.
The two enormous vessels, each the length of two football fields, and three storeys high, were found empty and abandoned by villagers on the coast of eastern Pahang state on Sunday.
The New Straits Times said that the cable linking the two Singapore-registered barges to the tugboat snapped in heavy seas last Wednesday as they were being towed to the city-state.
Terus Maju Logistic, the agent appointed to salvage the vessels, said they would be taken back to sea in the next few days.
Pahang state marine police commander Mohamed Pajeri Ali told the daily that his officers were guarding the barges, and complained that neither the owner nor the tugboat operator had lodged police reports after the loss.
"We have yet to receive any report from them," he reportedly said. "The barges could have damaged other vessels in the sea."