OSLO, May 30, 2010 (AFP) - Germany won this year's Eurovision Song Contest in Oslo on Saturday with the punchy pop ballad "Satellite" sung by Lena, the second German to win the extravagant talent contest in its 55-year history.
"I'm so happy and so thankful and so grateful and I never thought that we could do this," said the 19-year-old, who had only just finished her final school exams.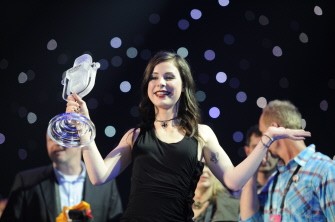 Lena celebrates with her trophy on May 29, 2010. AFP photo
Dark red lips trembling with emotion, the singer -- who had been tipped as one of the evening's possible winners -- told the show's hosts she did not feel strong enough to lift her trophy.
"Thank you! This is so absolutely awesome and I feel like just, this is not real," said the long-haired brunette, wearing a short yet sober slim-fitting black dress, a German flag in her hands.
Germany last won the contest in 1982 and as this year's winner, will host the show next year.
Runners up Turkey and Romania trailed far behind in the annual contest that pitted 25 European countries against each other in the final.
Acts ranging from Greece's pop twist on a folkish tune to France's rhythmic beach track were vying for points obtained from other countries, determined by both popular vote and specialist juries.
In Germany, as soon as Lena was declared the winner, shouts of joy burst out from the crowds of thousands watching the event from giant screens displayed in the northern city of Hamburg and in Hanover, central Germany, her home town.
Over the last week, Germany had fallen for the natural-looking, spontaneous, and previously unknown young singer.
She won audiences' hearts by candidly answering questions on her private life and criticism of her English accent.
Eurovision organisers said her "Satellite" song had become one of Germany's top downloads.
"Love, Oh, Love/I gotta tell you how I feel about you/Cause I, Oh, I/Can't go a minute without your love," says its jerky chorus, in English like most of the songs in this year's contest.
"Lena, you are making a dream come true," ran the headline in the online version of the Bild-Zeitung tabloid, which praised Germany's "sensational" victory.
"Incredible! Lena turns her head to Europe and won," said regional daily Hamburger Abendblatt.
"All of Germany was trembling... and crossing its fingers: Lena Meyer-Landrut was carrying the hopes of a nation on her shoulders," said the weekly Focus.
Organisers said more than 120 million viewers across 39 European countries -- but also as far afield as Myanmar, Australia and New Zealand -- tuned in to the contest, one of the world's most watched events.
One incident clouded the evening: one of the 16,000 spectators who had packed Oslo's Telenor Arena to watch the contest live managed to slip through security and onto the stage during Spain's performance, joining the dancers around Daniel Diges.
Some in Spain identified the intruder as Jaume Marquet Cot, better known as "Jimmy Jump," a real estate agent from the separatist-minded region of Catalonia who is known for pitch invasions of several major sporting events, and accused him of trying to ruin Spain's chances.
But for the most part, the 55th installment of the Eurovision song contest lived up to expectations with its classic blend of kitsch and pop glamour.
With sexy divas, bare-chested bronzed playboys, exuberant costumes and sparkling light displays, no effort had been spared for the musical showdown.
While the votes were being counted, a giant flash mob -- in which Norway's Crown Princess took part -- was broadcast, showing Europeans from all over the continent dancing along to a catchy pop tune.
As in earlier years, regional blocks played a huge role in attributing points: Greece gave the maximum of 12 points to Cyprus who returned the favour; Serbia gave its points to Bosnia-Hercegovina, while Belarus' top marks went to Russia.
On the other hand, Russia gave 10 points to Georgia, with whom it was at war less than two years ago.
France, which has not won the Eurovision since 1977, came in 12th, Greece placed 8th, and the United Kingdom was last.