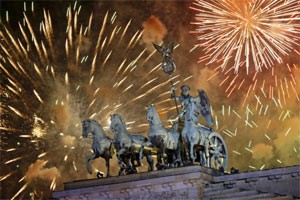 Fireworks explode over Berlin's Brandenburg Gate as the German capital ushers in the New Year, Jan. 1, 2007 (AFP Photo)
Germany took the helm of the European Union and the Group of Eight club of rich nations on Monday with the self-appointed task of striving to relaunch the Middle East peace drive and the EU constitution.
Berlin's presidency of the EU comes as its ranks swelled to 27 with the adhesion overnight of Bulgaria and Romania, making it more pressing still for the bloc to restructure its institutions and revive the shelved treaty.
Chancellor Angela Merkel plans to use the next six months to draw up a "roadmap" of how the EU can get the divisive 200-page text that was shot down by French and Dutch voters last year back on track.
She has also put energy security and the environmental crisis at the top of her packed agenda but warned against excessive expectations of Germany's dual presidencies of the EU and the G8.
Germany last held the reins of both blocs in 1999, before Russia became a regular at the table of most industrialised nations and the former communist countries of eastern Europe joined the EU club.
Merkel now has the task of steering the EU towards a new partnership with Moscow at a time when Europe wants to secure its long-term energy supply amid fears that Russia could continue to use its oil and gas resources as a foreign policy tool.
In her New Year's address to Germans late Sunday, the conservative chancellor called for unity among the citizens of Europe who now number half a billion people with the hardwon entry of 30 million Bulgarians and Romanians.
"Europe will succeed if we stand together," Merkel said.
"Only a united Europe can tackle the challenges of globalization including international trade but also violence, terror and war. A divided Europe is doomed to failure."
The European Union rolled out the red carpet for Bulgaria and Romania Monday but they will be the last entrants until reforms are made to ease in new members and enlargement has more public support.
The two Balkans countries, by far the poorest of the bloc's states, will be under strict surveillance for the first three years of membership owing to their poor degree of readiness.