A German engineer and four fellow hostages held by the Taliban appealed for help in a video broadcast Thursday on private Afghanistan television which showed him slumped over and coughing.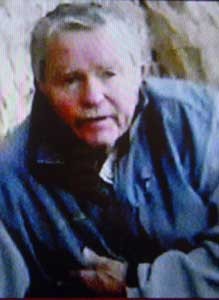 TV grab shows German engineer Rudolf Blechschmidt talking in Kabul, August 23, 2007.
Speaking with apparent difficulty, Rudolph Blechschmidt said that he was a prisoner and in poor health, and urged the Afghan government and German embassy to do all they could to secure his release.
Four Afghans kidnapped along with the German also appeared in the video, and one appealed to President Hamid Karzai's government and the national parliament to help them win freedom.
The 62-year-old German was kidnapped in southern Afghanistan on July 18, one day before a group of South Korean aid workers were also abducted.
The Taliban have demanded the release of 10 of their jailed colleagues in the Afghan prisons in exchange for the German and the four nationals, a demand Kabul had strongly rejected.
According to the Tolo presenter, the Taliban demanded in the latest video that Germany withdraw its 3,000 NATO-led troops from Afghanistan.
The militants have separately demanded the release of some Taliban prisoners in return for 19 South Koreans kidnapped around the same time as the German engineer.
Talks between the Taliban captors and a South Korean delegation over the release of the Korean aid workers from a Christian church have remained deadlocked after the two sides failed to reach an agreement.