MUNICH, Germany, July 20, 2011 (AFP) - A German court on Wednesday ordered the release of an aircraft flown by the Thai crown prince impounded in Germany on receipt of a 20-million-euro ($28.2-million) bank guarantee.
Maha Vajiralongkorn's Boeing 737 was seized at Munich airport in southern Germany last Tuesday in a long-running commercial dispute between Thailand and the receivers of a now-insolvent German construction firm.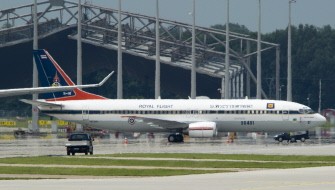 AFP FILES - Picture taken on July 13, 2011 shows a Boeing 737 of the Thai Crown Prince Maha Vajiralongkorn standing on the premises of the airport Munich
But the court in Landshut near Munich allowed the plane, valued at around 20 million euros, to be released following assurances that it was the private property of the 58-year-old heir to the throne and not that of the Thai state.
The seizure of the aircraft prompted a visit by Thai Foreign Minister Kasit Piromya on Friday to Germany, calling the incident a "huge mistake" and meeting foreign undersecretary Cornelia Pieper to discuss the matter.
Amid fears of worsening bilateral relations, the German government has said it regretted the incident but stressed that it was powerless to act, insisting it was a matter for the courts.
The dispute goes back more than 20 years to the involvement of DYWIDAG, which merged with construction firm Walter Bau in 2001, in building a motorway link between Bangkok and Don Muang airport.
After "numerous breaches of contract by the Thai government", Walter Bau, by then insolvent, in 2007 claimed for damages.
"We have been trying for years ... to have our justified demands for more than 30 million euros met, and this drastic measure is basically the last resort," Walter Bau's insolvency administrator said when the plane was seized.
"The Thai government keeps playing for time and has not reacted to Schneider's demands. Even the involvement of the relevant departments of the German government proved fruitless."