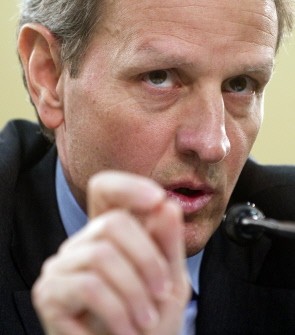 AFP file - Timothy Geithner
WASHINGTON, Aug 8, 2011 (AFP) - Timothy Geithner, who decided this week to stay on as US Treasury secretary, faces yet another looming crisis in a volatile tenure where he has often been a lightning rod for criticism.
Within days of Standard & Poor's decision to downgrade the long-term US credit rating for the first time ever, Geithner announced he would stay at the helm despite calls for his replacement by some Republicans.
Geithner has slammed S&P's demotion of the US government from a sterling AAA to an AA+ rating and sought to reassure jittery world markets Monday, saying there was "plenty of room" for authorities to promote economic growth.
"In countries around the world, not just in the United States, we have plenty of room to do things to help make this economy strong in the short term, and it's our responsibility to do that," he said.
In recent weeks, economists have warned that US growth has slowed so much that it risked entering another period of negative growth after the "Great Recession" that peaked in 2008.
Geithner, who turns 50 later this month, had been expected to step down after Congress reached a deal this month to raise the debt ceiling. His family recently moved back to New York, where his son attends high school, and he was said to be tired of the many commutes.
But the country is still struggling to recover from the economic crisis that greeted President Barack Obama's administration in 2009 and the limited deal reached earlier this month failed to head off the credit downgrade.
On Saturday, Republican Senator Rand Paul called on Geithner to step down for what the lawmaker's office called "gross mismanagement of federal economic policy and his role in the first-ever downgrade of United States debt."
US Representative Michele Bachmann, a Republican candidate for president in 2012, also called for Geithner's resignation.
But Obama has stood by his close aide, and White House spokesman Jay Carney said Sunday that the president had "asked Secretary Geithner to stay on at Treasury and welcomes his decision."
The administration had reportedly pressed him to stay on, with the Treasury secretary recently joking that he was forced to wear an ankle bracelet around the White House, according to The New York Times.
Since announcing that he would remain in the position, Geithner has gone on the offensive, slamming Standard and Poor's for what he called its "terrible judgment" in docking the US credit rating.
"There is no risk the US would never meet its obligations. We've got some challenge ahead of us, but we'll be able to work through the challenges. We'll get through this," he said in an interview with NBC News and CNBC.
S&P has defended the downgrade, which it attributed to the country's bloated $14 trillion debt and the apparent inability of its fiercely divided leaders to take the necessary action to balance US finances.
Geithner is not affiliated with any party and has spent his career in government finance and on the political sidelines.
He first joined the Treasury at age 27. When George W. Bush became president in 2001, he went to work for the Council on Foreign Relations and the International Monetary Fund.
At 42, he was tapped to be head of the Federal Reserve Bank of New York, considered the Fed's second-most influential post because the New York bank interacts directly with a powerful constituency that includes Wall Street.
Despite holding high office in the years leading up to the 2008 financial collapse, when regulatory authorities are accused of having been asleep at the wheel, he was tapped by Obama to lead the recovery.
Upon assuming office in early 2009, he was charged with overseeing two major bailout packages worth more than $1.5 trillion and aimed at shoring up the country's distressed banking sector.
The administration has said that the stimulus, while costly, averted another Great Depression, while conservative critics have branded it a costly expansion of government that has failed to revive the economy.
Unemployment hovers above nine percent, and a slew of downbeat reports last week fueled fears that the recovery had stalled to the point where a dreaded "double-dip" recession could take place.
Born in Brooklyn, New York, Geithner attended high school in Bangkok, where his father Peter worked as an Asia expert for the Ford Foundation.
Geithner spent part of his childhood in Zambia, Zimbabwe and India during his father's expatriate stints with the group and later with the US Agency for International Development.
He graduated in Asian Studies from Dartmouth College, studying Japanese and Chinese while living as a student in the Asian countries.