BEIJING, Sept 29, 2010 (AFP) - Bill Gates and Warren Buffett will host a banquet Wednesday for China's super rich that has sparked debate about Chinese philanthropy, amid reports that wealthy invitees have been reluctant to attend.
Gates and Buffett, who have already persuaded 40 wealthy US individuals to hand over more than half of their fortunes, have insisted they will not pressure attendees for money and simply want to learn about charity in China.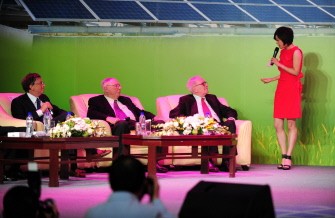 Warren Buffett (3rd L), Charles Munger (2nd L) and Bill Gates (L) take questions from an MC at the nationwide launch ceremony of Chinese electric vehicle BYD M6 in Beijing on September 29, 2010. AFP
It's "a discussion about philanthropy that will be a two-way exchange that we are looking forward to", software magnate Gates told reporters in Beijing as billionaire investor Buffett stood at his side.
The state-run Global Times said the guest list of rich industrialists included Pan Shiyi and Zhang Xin, the chairman and CEO of property developer SOHO China, and Niu Gensheng, founder of Mengniu Dairy.
Chinese film star Jet Li, himself a philanthropist, has said he will meet Gates and Buffett before the banquet to chat about charity.
The event is shrouded in secrecy but reports have said the hotel in northwest Beijing where it will take place has been sealed off and emptied of guests.
The banquet has caused a stir in China, the world's second-largest economy, where the number of rich people is growing fast in parallel with the nation's stunning economic development.
China had 64 dollar billionaires last year, second only to the United States' 403, according to Forbes magazine. The number rose 31 percent in 2009 from the previous year, state media has said.
Still, the official Xinhua news agency reported earlier this month that only a small number of business leaders had confirmed their attendance at the banquet for fear of being leaned on to give.
The Global Times said in a commentary piece that philanthropy was still in its infancy in China and was "not popular among Chinese business people".
"A lack of reliable channels to donate and a lack of supervision on the use of the funds are strong reasons," it said.
But charitable giving is nevertheless on the rise.
Tycoon Chen Guangbiao, for example, pledged this month to give his fortune -- estimated at more than 700 million dollars -- to charity after he dies and said more than 100 other Chinese had since contacted him to promise the same.
"If you have a cup of water, that's for one person to drink. If you have a bucket of water, that's for your family to drink. But if you own a river, you should share it for all to enjoy," Chen, 42, recently told AFP in an interview.
And according to the state-run Beijing News, a charity dinner for "common people" such as students and professors has also been organised in Beijing at the same time as the banquet to encourage the less wealthy to donate too.
Peter Buffett, son of the US investment guru, told Xinhua that his father hoped the "Chinese people will come to their own conclusions about the role of philanthropy in their culture".
"It isn't always just about money. It's also about speaking out on the issue to get others involved," he was quoted as saying.