G20 nations sought to reach a deal Saturday on a set of agreed indicators to measure the economic health of nations, key to their flagship initiative to try to avoid another global financial crisis.
Finance ministers and central bankers from the 20 top developed and developing economies sat down for talks after their negotiators worked through the night to resolve disagreements.
In welcoming remarks on Friday, French President Nicolas Sarkozy warned the ministers that failure to put aside national interests and reach a deal would kill off the G20.
"The temptation to give priority to national interests is great. But let me tell you clearly -- that would be the death of the G20," said Sarkozy.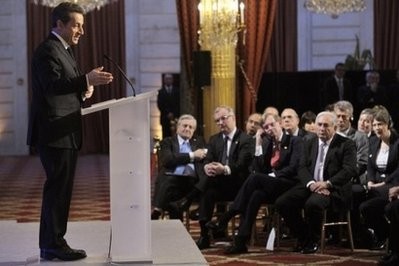 French President Nicolas Sarkozy (L) delivers a speech to G20 Central bank governors at the Elysee Palace
After the 2008 global economic crisis, world leaders decided to make the G20 the pre-eminent world economic council instead of the G8 of the top industrialised nations plus Russia.
One of the body's major initiatives has been to try to seek to avoid another crisis through better economic coordination but in order to make policy recommendations they need to agree on a set of economic measures.
France wants an agreement as soon as possible so that in the second half of this year the International Monetary Fund can make economic policy recommendations to nations.
"We need a thermometer that works so we can examine the imbalances in all their aspects to make as useful a diagnosis as possible," one negotiator said.
But no consensus emerged about which indicators to use during their first meeting on Friday evening, a diplomatic source said.
China remained reluctant to agree to certain indicators under consideration but there was no united front among emerging nations on the issue, said the source, who attended the working dinner.
"There is no consensus but there is pressure from a majority for the adoption of a package of global indicators," said the source.
"There are three options: either the whole package is adopted, nothing is adopted, or try to reach a compromise along the lines of main and secondary indicators, or even those which enter into force immediately and others later."
A series of four indicators are under discussion.
Two measure imbalances within countries -- the public deficit and debt, plus the level of private savings.
The other two measure external imbalances -- the current account balance or trade balance, or foreign currency reserves or real exchange rates.
"China is reluctant, it prefers the trade balance to the current account balance," which is favoured by other countries, said the source.
China is traditionally hostile to currency indicators as it has accumulated huge foreign currency reserves and the yuan is not freely convertible.
China last year resisted a US proposal to stabilise current account balances by setting a four-percent cap on countries' deficits and surpluses.
The United States and other Western powers accuse China of holding down its currency to boost Chinese exports. China denies any such manipulation, blaming the imbalance on structural problems in its trade partners' economies.
But Sarkozy said Friday that China had accepted to host a seminar on exchange rate policy in its southern city of Shenzhen at the end of next month.
There was no "emerging nations front" on the indicators, however, said the diplomatic source.
"India and Indonesia were supportive of the entire list," as was Germany, which has also often been reluctant to support measures that would take aim at its huge trade surplus, said the source.
Sarkozy has vowed to reform the world monetary system and commodities markets during his year at the G20 helm, saying he aims to defend poor economies from currency and trade turbulence.
France and others have also talked of reducing the world's reliance on the dollar as its reserve currency. The US delegation says it wants to focus more on the effect of volatility in capital flows between countries.