Several Federal Security Service (FSB) and Interior Ministry officers had been detained in the murder of Russian investigative journalist Anna Politkovskaya, RIA-Novosti quoted Russia's prosecutor general on Monday.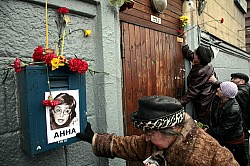 Moscow residents lay flowers in front of Annan Politkovskaya's apartment block.
"Unfortunately, one former and one serving police official, and an officer from the FSB participated in surveillance and intelligence gathering on Politkovskaya," Yury Chaika said.
The Chechen-born leader of a Moscow organized crime group was behind the murder of Russian investigative journalist Anna Politkovskaya, he added.
Politkovskaya, known for her criticism of the Kremlin's policy in Chechnya, was gunned down in an apparent contract killing in an elevator of her apartment block on October 7, 2006 in Moscow, at the age of 48.
"The crime was solved over a period of 10 months. Ten people, including direct organizers, accomplices and perpetrators of the crime, have been arrested in the case," Yury Chaika said.
However, a senior police official denied that there were serving policemen among the detainees in the Politkovskaya case. "There is no single serving officer among the group of people detained or arrested so far in the Anna Politkovskaya murder case," Police Major General Yury Karasyov told journalists.
The chief prosecutor said the arrested former security officials organized surveillance and gathered information, making them accomplices in the murder. The gang leader who masterminded Politkovskaya's killing was well-known to the journalist, and the two had met, Chaika said.
He said the suspect is currently abroad, but declined to name him. "I can't give his name, as the investigation is still underway," he said.
Chaika said there was evidence that detainees in the case were also involved in the murder of Forbes Russia editor Paul Klebnikov in July 2004.
A U.S. journalist of Russian descent, Klebnikov was the first editor of Forbes Russia, launched in April 2004. He gained an international reputation for investigating murky business dealings and corruption in the post-Soviet era. Klebnikov was killed when leaving his office in central Moscow, at the age of 41.