French President Nicolas Sarkozy's government faced a showdown with angry trade unions on Tuesday as thousands prepared to march against plans to raise the minimum retirement age to 62.
Labour leaders have called on all public and private sector workers to observe a one-day stoppage and to attend one of the 190 protest rallies organised around the country.
Turnout will be closely scrutinised -- and probably subject to dispute -- as a measure of the level of opposition to Sarkozy's pension reform bill, which will go before parliament for debate in the course of the day.
The law would increase France's minimum retirement age from 60 to 62 by 2018, which would still leave it early by international standards but would reverse a cherished and emblematic Socialist reform.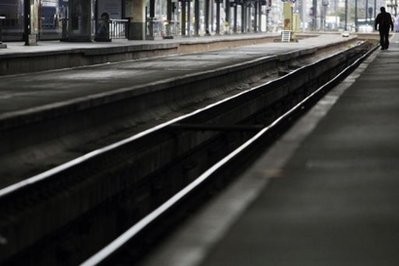 A man walks through the empty Gare de Lyon railway station in Paris
Sarkozy's ally Prime Minister Francois Fillon admitted that he expected "a strong turnout" by his government's opponents, but the president's supporters insisted that the reform must go ahead to reduce France's public deficit.
Bernard Thibault,leader of France's biggest uion the CGT, said he believed that even more people would turn out than in June, when more than 800,000 took part in a similar day of action.
"We may have an exceptional day and, if it is exceptional, we will perhaps be at a turning point," he told France Inter radio.
Widespread disruption was expected in transport, government, industry, banks and postal services.
Just two out of five TGV high-speed trains were expected to run, with reduced service on many other lines, state railway operator SNCF said. But Eurostar trains between Paris and London were set to run normally.
Meanwhile, the DGAC aviation authority warned up to a quarter of flights into and out of Paris airports could be cancelled or delayed, although long-haul services were not expected to suffer greatly.
An Obea/Infra Forces opinion poll published on the eve of the action said 73 percent of French voters approve of the protest marches. But the survey also showed that 65 percent thought the government would not change course.