European governments on Thursday pressed ahead with radical cost-cutting plans in a bid to tackle a debt crisis, as financial markets rallied and thousands protested in France against pension reforms.
The Spanish parliament passed by just one vote an unpopular raft of austerity measures to contain overspending, including a reduction in pay for civil servants, a freeze on most pensions in 2011 and a cut in child benefits.
It was feared that a government defeat could have forced new elections and added to jitters among investors over the poor state of public finances in Spain, which just scraped out of a long recession in the first quarter.
Meanwhile in France, tens of thousands of people turned up for rallies across the country called by trade unions in protest against the government's plans to raise the official retirement age from 60 in a bid to cut debt.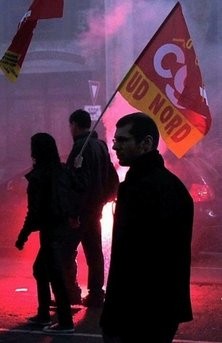 A person holds a banner of CGT trade-union during a demonstration in Lille, during a nationwide day of strike called by unions to protest against the pension overhaul.
And during a visit to Germany on Thursday, US Treasury Secretary Timothy Geithner said Europe should follow China's lead and boost economic growth since US consumers can no longer support the global economy alone as in the past.
"If the world is going to grow at its potential then we are going to have a more balanced pattern of growth globally," Geithner said, following talks with his German counterpart Wolfgang Schaeuble in Europe's biggest economy.
Referring to the current debt crisis, he added: "We all understand and we all agree that part of global recovery... is to commit to clear objectives for reducing our fiscal positions to sustainable levels over the medium term.
"We are going to get there at somewhat different paces, the magnitude of adjustment will differ, as we all come to this from different positions, with different underlying growth rates, different overall debt burdens," he added.
Alongside Greece, Portugal and Spain -- all of whom have seen their borrowing costs rise sharply in recent months as investors fret over their solvency -- other EU members like Italy and Britain are slashing spending.
Germany and France are preparing to follow suit. Plans announced by the French government to raise the official retirement age to 60 brought tens of thousands of people into the streets of Paris on Thursday.
On average French men retire even earlier at 58.7 years and women at 59.5 -- lower than in other developed nations -- and as France has one of the world's longest life expectancies, workers can spend a quarter century in retirement.
Europe's deficit-cutting drive had a visible effect on financial markets on Thursday, with London's FTSE-100 index jumping up 3.12 percent, the Frankfurt Dax rocketing 3.11 percent and the Paris CAC rising 3.42 percent.
Market sentiment was also helped by optimistic US and a positive outlook for the world economy from the OECD, as well as China's sharp rebuttal to a report that it might reduce its holdings of eurozone government debt.
But high deficits and debt in some of the weaker EU economies remained centre stage on the world economic map, with Padhraic Garvey, a debt analyst at Dutch bank ING, warning: "We remain in a very difficult set of circumstances."
Also causing some concern was new data from the United States showing the US economy -- the world's largest -- grew slightly less than initially estimated in the first three months of the year at 3.0 percent from the previous quarter.
The earlier estimated had put growth at 3.2 percent. The downward revision surprised most analysts, who predicted gross domestic product -- a broad measure of the country's goods and services output -- had expanded 3.3 percent.
"This is a fairly tepid recovery that is fighting a lot of headwinds," said Joel Naroff of Naroff Economic Advisors.
"It will be hard to grow rapidly when the economy has to overcome limited credit availability, a modest recovery in housing, high unemployment rates and as a consequence depressed consumer confidence ... and uncertainty in Europe."