PARIS, July 8, 2011 (AFP) - French prosecutors began Friday a preliminary inquiry into an allegation by a young writer that former IMF chief Dominique Strauss-Kahn tried to rape her in 2003, judicial sources said.
Police detectives have been assigned to investigate a complaint lodged by 32-year-old Tristane Banon that Socialist politician Strauss-Kahn assaulted her in a Paris flat as she attempted to interview him for a book she was writing.
Strauss-Kahn is on trial in the United States on separate charges that on May 14 he sexually assaulted and attempted to rape a New York hotel maid, but prosecutors there have admitted to doubts over the alleged victim's testimony.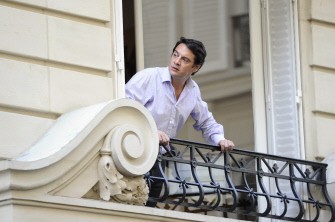 AFP - David Koubbi, the lawyer of French novelist Tristane Banon, looks out of the window of his firm law, on July 6, 2011 in Paris.
The 62-year-old economist pleaded not guilty in New York and dismissed the alleged Paris attack as "imaginary". His lawyers are planning to sue Banon for defamation over the allegation, which she first made on television in 2007.
But Banon's lawyer, David Koubbi, insists her complaint is not simply a "her word versus his" dispute, but is backed by supporting evidence.
"We have material elements. Text messages were sent and there is testimony. Several people are at the disposal of the judiciary to bear witness," he said this week, after filing the complaint with state prosecutors.
In France, attempted rape is punishable by a sentence of 15 years, while in New York Strauss-Kahn faces a total of seven related charges including sexual assault, some of them carrying penalties of up to 25 years in jail.
For the French case to come to trial, prosecutors must conclude they have enough evidence to ask an investigating magistrate to indict the suspect, eight years after the alleged attack.
Until May's allegations in New York, Strauss-Kahn was one of the most powerful men in world financial governance and considered the frontrunner for the French opposition Socialists' presidential primary.
Although yet to formally join the race, polls showed him on course to defeat France's centre-right incumbent, President Nicolas Sarkozy, in next April's vote and to assume one of the world's most powerful executive posts.
Reported inconsistencies in the New York maid's evidence have made it likely that the US case will eventually collapse, observers say, but Strauss-Kahn is no longer thought likely to seek his party's nomination.
And if he does return to France, he will now face a lengthy second inquiry into the alleged 2003 incident.