PARIS, May 3, 2010 (AFP) - France and The Netherlands called on Monday for extra rigour in the EU's Stability Pact after the Greek debt debacle, with France targeting financial stability and the Dutch attacking slack budgets.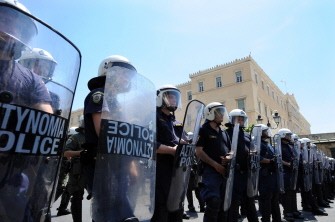 Greek riot policemen block a street near the parliament building during a strike by municipal workers in the center of Athens on May 3, 2010. AFP photo
Finance Minister Christine Lagarde told Le Monde newspaper that advance warning systems were needed to prevent a repetition of the Greek crisis and that new criteria must be decided to monitor the eurozone's 16 members.
"We must imperatively place under our radarscope the monitoring of competitiveness and financial stability," Lagarde said in the interview, referring to the Stability and Growth Pact which was intended to push countries from budget deficits to surpluses.
In The Hague, Dutch Finance Minister Jan Kees de Jager said that a massive bailout by the eurozone and the IMF for Greece called for "new and much stricter agreements" on respect for the rules of the pact.
"It is important to learn from this situation and to look anew at the European rules of the Stability and Growth Pact," minister Jan Kees de Jager said in a statement.
"I am in support of new and much stricter agreements on adherence" to the rules, he said.
In Paris, Lagarde said that not enough attention had been placed on the growing gap between Germany's export-driven economy and the mounting debt problems facing Greece, Portugal and Ireland, all within the eurozone.
Lagarde has argued recently that Germany was running an unsustainably big trade surplus with the rest of the eurozone.
On Sunday, European finance ministers approved a 110-billion-euro bailout over three years to save the Greek economy from drowning in debt and shore up the euro amid fears of a chain reaction across the single-currency zone.
"With this plan, Greece is completely protected for two and a half years," said Lagarde, rejecting suggestion that Spain and Portugal would also face a crisis over their public finances.
"They are not at all in the same situation. They did not provide false figures, talk nonsense over their deficits," she said.
Lagarde acknowledged that changes to the EU Stability and Growth Pact, adopted in 1997, had been under discussion for years, but argued the Greek crisis had brought new urgency to the debate.
"When it ends up costing you 110 billion euros, you do change your approach," she said.
The pact notably dictates that member states must not let their budget deficits climb higher than three percent of GDP. Greece's deficit is on track to reach 8.1 percent of GDP this year.
The pact, originally intended by Germany to be a rigorous corset to ensure convergence of eurozone public finances and prevent a Greece-style crisis, was subsequently diluted owing to opposition by some other leading eurozone countries.
France and Germany are also looking at tightening surveillance of rating agencies such as Standard and Poor's, accused of compounding the Greek crisis when it cut its rate to junk status last week.
The Netherlands will contribute 4.8 billion euros (6.4 billion dollars) of the total 110-billion-euro aid package.
"Aid to Greece is essential for the financial stability of the eurozone" -- the 16 countries that share the euro, De Jager said.
"Although I am not happy with the situation, I know that the alternative of doing nothing for Greece could turn out to be even more unpleasant, also for the Netherlands."
The minister added that allowing Greece to leave the eurozone "is naturally not an option".
He said: "The Greek debt is in euros. That debt would only increase."
De Jager is to discuss the Dutch contribution with a parliamentary finance commission on Friday.
If members of the commission are in agreement with the Dutch contribution, which has already been approved in principle, it was likely to be officially adopted at a plenary sitting of parliament next Tuesday, a spokeswoman for the Dutch lower house explained.