PARIS, Aug 4, 2011 (AFP) - France said Thursday its aircraft carrier Charles de Gaulle would return home for maintenance next week from the NATO-led mission over Libya, but insisted there would be no respite for Moamer Kadhafi.
The vessel, France's only aircraft carrier and Europe's biggest warship, will leave on August 10 to head for its home port of Toulon for several weeks of work, defence minister Gerard Longuet told Var-Matin newspaper.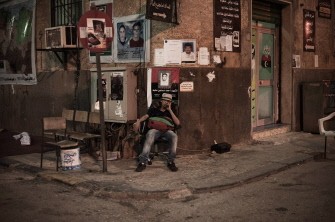 AFP - A Libyan man rests on a chair in Revolution Square on the second day of the Muslim holy month of Ramadan on August 2, 2011 in Libyan rebel-stronghold city of Benghazi.
The French navy website however said Thursday it would take "several months" to complete the work on the ship that has been engaged in the operation since March 22.
Longuet insisted that France would maintain its commitment to the Libya mission, where since March the alliance has conducted air strikes against Kadhafi's forces as part of a UN mandate to protect civilians.
"Kadhafi should not expect any respite," he said, adding that French warplanes would keep up their strikes and reconnaissance flights from land bases.
NATO allies are in a hurry to bring the air war in Libya to a victorious end but are having to carry on with a shrinking alliance after Norway withdrew its jets and Italy pulled an aircraft carrier.
Longuet's announcement came three days after Norway withdrew its final four F-16 fighter jets.
Italy, Libya's former colonial ruler, last month scaled back its involvement in the operation by withdrawing the aircraft carrier Garibaldi.
Only eight of NATO's 28 member states have flown bombing missions since the alliance took command of the operation in late March: Norway, Britain, France, Canada, Belgium, Denmark, Italy and the United States.
London has increased its contribution by adding four Tornado jets, effectively making up for the loss of the Norwegian planes.
A total of 17,566 air sorties, including 6,648 bombing sorties, have been conducted since the beginning of the NATO operation over Libya.
With Kadhafi refusing to step down, allied tactics and diplomatic messages are under adjustment. The United States, France and Britain indicated in recent days the dictator could stay in Libya if he cedes power -- an option the rebels have rejected.