SYDNEY, Sept 8, 2010 (AFP) - Australia's newly elected Prime Minister Julia Gillard pledged to serve a full term after scraping back into power but her fragile coalition was immediately at odds over a major new tax Wednesday.
Welsh-born Gillard, who cobbled together a one-seat majority helped by three independents and a Greens MP after inconclusive polls, promised the nation's first minority government in 70 years would be "stable and effective".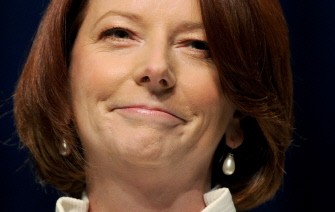 (AFP) This file photo taken on August 21, 2010 shows Australian Prime Minister Julia Gillard speaking to supporters at an election night function in Melbourne.
"The government's aim is to go for its full term and deliver stable and effective government for three years," she told public broadcaster ABC.
"You should expect to see me lead, but in a different style than has been done before, understanding that it's not a question of dictating, but a question of consulting and inspiring," she added.
Gillard, who seized power in a June party coup, was handed a flimsy mandate on Tuesday when she won the backing of two "kingmaker" independent MPs, finally breaking a 17-day impasse after deadlocked elections.
But less than 24 hours later, independent Tony Windsor was disappointed that a controversial new levy on the mining sector -- which brought down Gillard's predecessor Kevin Rudd -- would not be discussed at an upcoming tax summit.
"I thought it was going to be included in any discussions in relation to taxation," he told ABC radio.
Treasurer Wayne Swan said the 30 percent tax would not be raised at the summit because legislation was already being prepared, while the opposition said the new government was "sliding away" from its deal with the independents.
The row raises early questions about the coalition's unity and Gillard's ability to steer through difficult legislation, including the mining tax and action on climate change.
Gillard's Labor party was also hit by internal recriminations after its rebuke at the polls, and the prime minister faces an awkward challenge after repeatedly promising to include ex-leader Kevin Rudd in her new cabinet.
The red-headed former lawyer became Australia's first woman prime minister by ousting Rudd on June 24 and called elections three weeks later, banking on a wave of support and goodwill over the resource-rich country's strong economy.
But the anticipated honeymoon period failed to materialise as many voters turned away from the two main parties and handed the environment-focused Greens a record ballot share.
Analysts said the minority government -- Australia's first since World War II -- was a difficult arrangement but "workable" as all involved were keen to preserve stability.
"It's delicate but I think it's workable. The considerable common policy ground between them is capable of being maximised," said Andrew Scott, a political scientist from the Royal Melbourne Institute of Technology.
Sydney's Daily Telegraph called it "The Big Steal", while the Australian Financial Review headline read: "Gillard buys power for 10 billion dollars", referring to her nine billion US dollar pledge to the independents on rural healthcare.
"Julia Gillard has clinched a historic election win, but now faces the daunting challenge of running Australia with a razor-thin parliamentary majority -- and at the mercy of a loose coalition of independents offering only qualified support for her minority government," said The Age newspaper.
Share prices were 0.51 percent lower with major miners BHP Billiton and Rio Tinto down 1.22 and 1.18 percent respectively, while the Australian dollar dropped to 91.17 US cents from Tuesday's close of 91.42.