United States military officials and weapons experts are advising the leadership to drop diplomacy with Iran over its nuclear program, and prepare for military action, FOX News reported.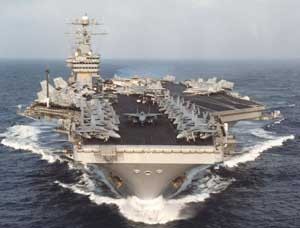 A US aircraft carrier in Presian Gulf.
The U.S. TV channel said Germany's recent decision not to back sanctions against the Islamic Republic, which the U.S. accuses of developing nuclear weapons, had pushed "a broad spectrum of officials in Washington to develop potential scenarios for a military attack."
The channel claimed that "political and military officers" had lost patience with Under Secretary of State for Political Affairs Nicholas Burns's diplomacy efforts with Iran.
FOX said security and nonproliferation official John Rood, and several Mideast experts including James Jeffrey, a White House national security adviser, were "advising Secretary of State Condoleezza Rice that the diplomatic approach favored by Burns has failed and the administration must actively prepare for military intervention of some kind."
Serious discussions are now underway in the Bush administration on "the costs and benefits of military action against Iran," focusing on two options - "less invasive scenarios" involving a blockade, and "full-scale aerial bombardment."
The channel cited a foreign diplomat as saying the George W. Bush administration "has just about had it with Iran... They tried the diplomatic process. China is now obstructing them at the U.N. Security Council and the Russians are tucking themselves behind them."
Iran has strengthened its defense capacity and is capable of decisively repelling any attack against it, the commander of the Islamic Revolutionary Guard Corps (IRGC) said on Iranian TV yesterday.
"If our enemies take any bold actions against Iran, they will receive a decisive and jaw breaking response," Mohammed Ali Jafari said.
Jafari also said that the IRGC was the only armed forces in the world, whose personnel are motivated and self-confident.
The 125,000-strong Islamic Revolutionary Guard Corps is the largest branch of Iran's military, separate from the rest of the army. It is equipped with modern weaponary and controls militia units numbering up to 12 million soldiers.