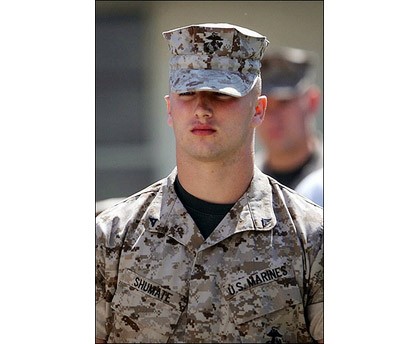 Lance Cpl. Jerry E. Shumate Jr. is escorted past the media after appearing as a defendant in an Article 32 Investigation hearing September 2006 at Camp Pendleton, California.
A fourth US serviceman is to plead guilty for his role in the death of an Iraqi civilian outside Baghdad earlier this year, lawyers representing the soldier said.
Steven Immel, attorney for lance corporal Jerry Shumate, said the 21-year-old US Marine would plead guilty to aggravated assault when he appears at a hearing next week at Camp Pendleton, southern California.
Shumate is alleged to have been part of a group of eight servicemen -- seven Marines and a Navy medic -- accused of killing 52-year-old Hashim Ibrahim Awad in Hamdania, outside Baghdad in April.

Prosecutors and witnesses in earlier hearings say the soldiers dragged Awad from his home and shot him before covering up the killing to make it look as if he were an Iraqi insurgent planting roadside bombs.
Two Marines and a Navy medic have already pleaded guilty to charges relating to the killing, while another four indicted Marines have yet to stand trial.
The killing is one of a series of incidents that has tarnished the reputation of US troops in Iraq.