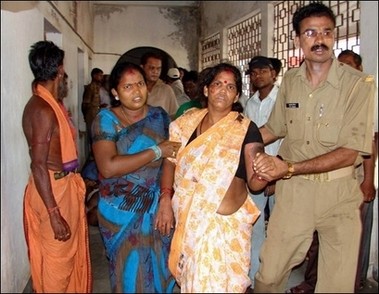 An Indian policeman (R) assists a wounded devotee as she arrives to seek treatment at a hospital in Puri some 65 kms south of Bhubaneswar
At least four people have been killed and 25 injured in a stampede at a temple festival in eastern India where thousands of people had gathered to worship.
The victims were among a massive crowd of Hindu devotees thronging the entrance to the massive 12th-century Jagannath temple in the coastal city of Puri, 65 kilometers (40 miles) south of Orissa state capital Bhubaneswar.
"Four have people died in the stampede. The government has ordered a judicial inquiry into the incident," said Orissa Law Minister Biswabhusan Harichandan on Saturday.
Chief temple administratror Suresh Mohapaptra told AFP at least 25 people were injured in the crush, 10 of whom seriously.
The stampede, involving mostly elderly people, occurred on a narrow set of stairs leading to the inner sanctum of the temple, one of the most revered Hindu shrines in India.
As the temple door opened, the crowd lined up to see the temple deities surged forward and some of those in front tripped and fell, triggering the stampede.
Authorities said at least 25,000 people were at the temple site when the incident occurred early in the morning.
Witnesses blamed temple authorities for poor planning on a weekend when tens of thousands were expected to celebrate the Hindu festival of Kartik Purnima or Full Moon on Sunday, marking the close of a holy month of prayer and fasting.