BERLIN, Sept 19, 2010 (AFP) - A toddler was among four people killed after a woman armed with a shotgun went on the rampage before being shot dead by police in the town of Loerrach, southwest Germany, police told AFP.
A police officer was also seriously wounded in the final shootout with the woman, which took place at the town's Saint Elizabeth hospital.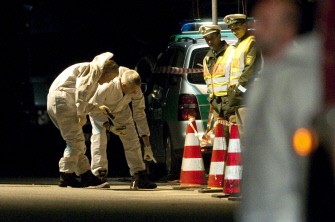 Forensic agents investigate in the street near the St. Elisabethen hospital in Loerrach on September 19, 2010. AFP
"Towards 1600 GMT, firefighters were called out to an explosion followed by a fire in an apartment situated in a street near the hospital," Eugen Wissler, a spokesman for the Loerrach police told AFP.
"As they arrived, they heard gunfire coming from the building.
They then saw an armed woman come out and cross the road heading towards the hospital, he added.
Once inside, the woman was confronted by the police and opened fire on them with a shotgun. After firing several warning shots, police finally shot her dead, he said.
The other person who died in the hospital was a member of staff there.
A police officer was badly wounded in the exchange of fire when he was hit in the knee, but his life was not in danger, Wissler added. Another person was slightly injured.
Firefighters meanwhile found the bodies of a girl aged three or four years old and a middle-aged man -- not a woman as they first thought -- in the burnt-out apartment, police spokesman Joachim Langanky said.
Police suspect they may have died before the explosion and fire because both bodies bore gunshot wounds.
They were for the moment unable to confirm whether or not the two were the husband and daughter of the woman behind the hospital shoot-out. Nor did police yet know what had set off the incident.
Loerrach, a town of some 48,000 people, lies near Germany's borders with France and Switzerland.
The incident comes only days after the manslaughter trial opened in Stuttgart last week of the father of Tim Kretschmer, the teenager who in March 2009 shot dead 15 people before killing himself at his old school.
Joerg Kretschmer, a 51-year-old businessman, is accused of having violated gun laws because his 17-year-old son was able to take his 9mm Beretta pistol from his bedside for his killing spree in the southern town of Winnenden.