Australian Prime Minister Julia Gillard Saturday named former leader Kevin Rudd as her foreign minister, less than three months after she staged a sudden and ruthless coup against him.
The nation's first woman leader announced the appointment as she made sweeping changes to her cabinet, after last week ensuring her hold on power after elections failed to hand victory outright to her centre-left Labor Party.
Gillard, who leads a minority government supported by one Greens MP, two country independents and a former Iraq war whistleblower, had promised that Rudd would be a senior member of her ministry if she won re-election.
"The foreign affairs and defence team will be Kevin Rudd as minister for foreign affairs and Stephen Smith as the minister for defence," Gillard said, ending weeks of speculation concerning the fate of Rudd, a Mandarin-speaking former diplomat known for his interest in global affairs.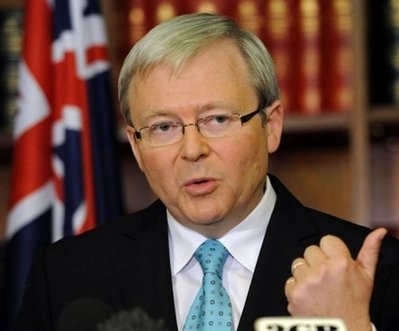 Australian PM Julia Gillard named former leader Kevin Rudd (pictured in June) as her foreign minister, less than three months after she staged a sudden and ruthless coup against him
Smith, who has served as foreign minister since Rudd led Labor to power in a November 2007 landslide election victory, will become defence minister to fill a vacancy left by John Faulkner's move to the backbench.
Rudd was suddenly ousted as prime minister by Gillard on June 24 after he lost the support of his Labor Party colleagues following a series of policy backflips and as his ratings slipped in the polls.
The 52-year-old, who was reportedly left devastated by his lightning removal from power, said he was honoured to take on the new role.
"There are national interests of this country which extend far beyond the personal interests of any individual. That applies to me as well," he told journalists in Canberra.
Gillard has repeatedly defended her decision to challenge the once hugely popular Rudd, saying his good government had "lost its way", and called a general election just three weeks after taking power.
But Rudd's sudden ousting -- complete with his tearful farewell press conference -- cast a shadow over her campaign and Labor suffered a heavy backlash in the August 21 polls.
The election gave neither Labor nor the opposition enough seats to rule outright, leaving both parties courting independents in a bid to form a government -- something Gillard's Labor finally managed to do Tuesday after 17 days of fraught negotiations.
But the unlikely collection of lawmakers who allowed her to retain power have left her with a fragile 76-74 seats in her favour and the government could be removed in a byelection prompted by the defection or death of one MP.
As she reshuffled her cabinet, Gillard said the promises she had made to secure the backing of the country independents had been honoured with the appointment of Simon Crean as minister for regional Australia.
The prime minister said her deputy Wayne Swan would continue as Treasurer while Senator Penny Wong will take on finance as she appointed some of the powerbrokers who aided her coup against Rudd to ministries.
Bill Shorten was named as assistant Treasurer and minister for financial services and superannuation while Mark Arbib was given the varied portfolios of indigenous employment, sport and social housing and homelessness.
Conservative opposition leader Tony Abbott said the ministerial line-up rewarded "the plotters who executed an elected prime minister."
"Today's reshuffle promises a continuation of unstable and incompetent government," he said in a statement.
"It delivers for faceless men, not the Australian people."
Australia's new government is expected to be sworn in by Governor-General Quentin Bryce in Canberra early next week.