A foreign psychologist was the first medical professional to examine a woman found naked in Cambodia's forests, amid a deepening mystery over her identity.
Hector Rifa of the Spanish group Psychologists Without Borders traveled to the region Tuesday to see the woman, thought by some to be 27-year-old Rochom P'ngieng who disappeared in 1989 while guarding her family's water buffalo.
Rifa, who has worked for several years among northeast Cambodia's hill tribes and has been closely following the sensational case, said earlier that the woman did not appear to be ill, and was more likely simply overwhelmed by her apparent sudden return to civilisation.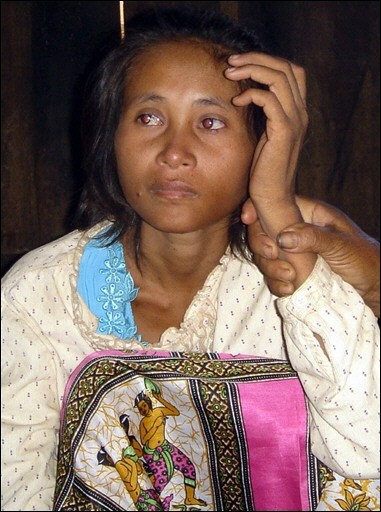 The woman found naked in Cambodia's forests.
"At the moment she does not have any symptoms of illness," he told AFP before arriving in the region.
The woman was brought from the jungle, naked and dirty, 11 days ago after being caught trying to steal food from a farmer.
She was hunched over like a monkey, scavenging the ground for pieces of dried rice in the forests of Ratanakkiri province, some 600 kilometers (400 miles) northeast of the capital Phnom Penh.
The woman has tried three times to escape back into the jungle since coming under the care of a family who claim she is their lost daughter, tearing at the dirty white blouse and patterned skirt in which her would-be parents have dressed her.
She has not uttered a word of any intelligible language, instead making what Sal Lou, the man who says he is her father, calls "animal noises."
Other times she sits listlessly on the floor of the hut where she is being kept, or stares out at the noisy crowds of villagers and journalists who have swarmed the tiny hamlet of Oyadao trying to get a look at what some have described as the "half-animal girl."
But there is growing doubt over Sal Lou's story that his daughter has been returned after living feral for 18 years and questions have been raised over the woman's origins.
Murmurs in the crowd also ask how this woman, who does bear a resemblance to her would-be mother Rochom Soy, could have such smooth skin or neatly trimmed hair after surviving for many years in one of Cambodia's wildest regions.
"She looks normal like us," scoffed one villager, Dub Thol, who travelled from a neighbouring district to see the woman.
Others in this isolated and highly superstitious community, where animist ethnic minorities believe forest spirits hold powerful sway over their lives, suggest the woman, whose face is blank of any emotion, is mentally ill.
Terrible scars around her wrist suggest that she had been tied up for long periods of time -- a practice sometimes used by desperate families to control the disturbed or mentally disabled in a country with almost no mental health facilities.
But Rifa said that the woman's conduct is normal behaviour for someone experiencing such an abrupt change and finding themselves suddenly under the glare of so much attention.
"I think it's very normal -- you leave the office for one month, and when you get back you find it a little strange," he told AFP.
"Imagine you are (away) for 18 years and you come back to that office again ... it is a very normal situation to be afraid," he added.
Rifa said he intends to stay one night with the family to "try and understand her behavior in relation to her family and her community."
Sal Lou said the woman is settling into family life and "sometimes tries to smile."
"Last night, we held a spiritual ceremony to ask our ancestors' spirits to help clear her mind and stop her from trying to escape back into the jungle," he said.
Sal Lou said he would agree to take a DNA test to "clear the doubt that she is my daughter."