Foreign direct investment in China rose 20.7 percent on-year in the first seven months of 2010, the government said Tuesday, underlining growing confidence in the country's economic might.
Foreign companies pumped 58.4 billion dollars into China in the January-July period, commerce ministry spokesman Yao Jian told reporters at a regular briefing.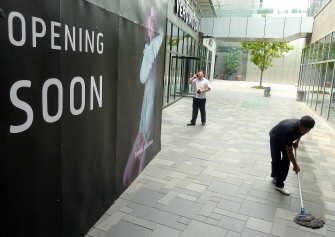 A Chinese cleaner wipes the floor of a shopping mall with new outlets soon to open in Beijing on August 17, 2010. China on August 17 hailed the country's economic might after it overtook world number two Japan in the second quarter but said it still had tens of millions of people living in poverty.
That marked an acceleration from the 19.6 percent growth logged in the first half of the year, and the 14.3 percent growth from January to May.
In July alone, foreign direct investment totalled 6.9 billion dollars, a jump of 29.2 percent over the same month in 2009, Yao said.
But Royal Bank of Scotland analyst Ben Simpfendorfer cautioned: "There's not a lot of transparency in what the figures do and don't include."
The data includes investment by overseas companies in industries such as manufacturing, real estate and agriculture but excludes money put into banks and other financial institutions.