WASHINGTON, May 20, 2010 (AFP) - The United States faces a delicate task as Thailand teeters on the edge, trying to encourage reconciliation in its longstanding ally without putting at risk its own influence.
Few non-Western countries have relationships with the United States as deeply rooted as Thailand's. The kingdom then known as Siam famously offered elephants to then-president Abraham Lincoln to fight the Civil War; more recently, Thailand provided critical support for the Vietnam War and sent troops to Iraq.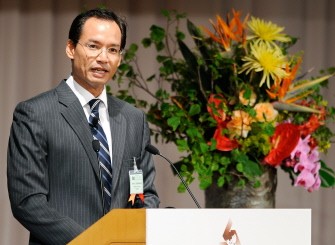 Thai Finance Minister Korn Chatikavanij delivers a speech during an internatilonal conference on the Future of Asia in Tokyo on May 21, 2010. Asian political, diplomatic, business and academic leaders attend the two-day symposium, entitled The Future of Asia. AFP PHOTO
The US alliance was scarcely an issue for the protesters who took over the heart of Bangkok for almost two months, or for the government and army that launched a deadly crackdown this week, leading to a wave of arson and looting.
But with Thailand's divisions raw, experts said the United States must tread carefully to avoid alienating either the Bangkok elite or so-called "Red Shirt" protesters who feel disenfranchised in the kingdom's politics.
Joshua Kurlantzick, a Thailand expert at the Council on Foreign Relations, said a policy of interacting only with the elite could give rise to an anti-US firebrand among the Red Shirts akin to Venezuela's leader Hugo Chavez.
Kurlantzick said the United States has been more even-handed than in 2006, when George W. Bush's administration was gentle in its criticism of the coup that ousted prime minister Thaksin Shinawatra, now an icon for many Red Shirts.
"I think US policy this time around has been more cautious, which is good, given that in the long run we don't know who is going to be in charge in Thailand," Kurlantzick said.
Some experts were skeptical that Thaksin -- a billionaire, Texas-educated mogul who assisted Bush in his controversial policy of flying terror suspects to interrogation sites -- could turn into a Chavez-like militant.
A more realistic concern would be an erosion of US influence in Thailand that allows China to exert a greater role, said Ernie Bower, director of the Southeast Asian Program at the Center for Strategic and International Studies.
"There are risks for a potential backlash if we picked a side and somehow the other side came into power," Bower said.
"I don't know if anyone can call where this will go over the next five to 10 years, and the Chinese don't have that burden," he said.
Bower recalled that China enjoyed an image boost in Asia after the 1997 financial crisis that followed the collapse of the Thai baht, as the United States became associated with International Monetary Fund austerity measures.
"The Chinese have the luxury of watching where the chips fall. They could easily be a back-seat driver -- if the United States makes a mistake, they can sweep up and say, 'We didn't make that mistake,'" he said.
President Barack Obama's administration -- which has made relations with Southeast Asia a priority -- has already had to dodge fire as it navigates Thailand's complicated crisis.
Thailand earlier this month summoned the US ambassador after Kurt Campbell, the assistant secretary of state for East Asia, met Red Shirts on a brief visit to Bangkok -- a step the government likely feared would bestow legitimacy on the protest movement.
The United States, however, has been reaching out to all sides. General Anupong Paojinda, head of the army, paid a quiet trip early this year to Washington for wide-ranging talks, diplomats said.
Walter Lohman, director of the Asian Studies Center at the conservative Heritage Foundation, said that Red Shirt protesters were discredited after the images shown around the world of Bangkok's glitzy downtown ablaze.
"What interest were they serving when they set the stock exchange on fire? What is the message that sends?" Lohman said.
But he said that the United States -- and, most important, the Thai government -- realized that well-intentioned and reasonable figures were also among the Red Shirt movement.
"The United States can open some lines of communication, but beyond that I don't think the US has a role to play," Lohman said. "Essentially, this is something the Thais will have to work out themselves."