For the longest time, a joke about Brazil made the rounds in the halls of international financial organizations: Latin America's largest and most populous nation had a great future — and always would.
No one's laughing anymore, as Brazil joined the ranks of the big-boy countries after Rio de Janeiro , a city known for sun and sin, was named the host of the 2016 Olympic Games on Friday.
The win, on top of an earlier award to host soccer's 2014 World Cup, recognizes Brazil as one of the pillars of the global economy. It's an amazing transformation, considering that just eight years ago it elected Luiz Inacio Lula da Silva , a fiery former union leader who critics warned would lead his nation into socialism, or, worse, communism.
It didn't happen. Instead, Lula has become a global figure, aided by Brazil's booming economy and recent discoveries of vast offshore oil deposits.
"It's sort of a recognition that Brazil has arrived. That it is a global player, that it is a regional power, and it reflects a very impressive performance and progress in the country," said Michael Shifter, the vice president of policy for the Inter-American Dialogue, a research center that specializes in hemispheric politics. "This is just a measure of its increasing stature and protagonism on the world stage."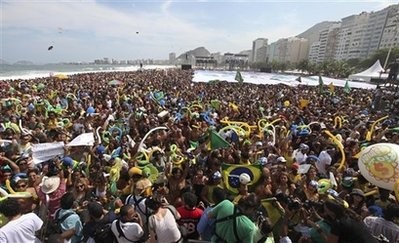 People celebrate after Rio de Janeiro was announced host of the 2016 Olympics at the Copacabana beach, in Rio de Janeiro.
Indeed, Brazil was front and center earlier in the decade when developing nations stormed out of global trade talks in the Mexican resort Cancun , drawing a line in the sand for emerging markets, which demanded that rich nations take their concerns seriously.
That effort culminated last month at a meeting of the Group of 20, composed of the world's most developed economies. Leaders meeting in Pittsburgh agreed to do away with the old Group of Eight structure dominated by the United States , Japan and Europe , and instead create a new, larger mechanism that brings in big developing economies.
"No country has done so much, with so much, in such a short period of time," said Jerry Haar , associate dean of the Florida International University College of Business in Miami . " Brazil has really matured. It now has crossed the line and is a middle-class country."
All the more remarkable given Brazil's troubled recent past, which included a long and tortured rule by successive generals.
"This is one of the great stories in the world, of a country that had 21 years of military dictatorship, economic disorder, and today for all of its problems seems to be pursuing a productive course," Shifter said.
Hosting the Olympic Games also will put Brazil and Rio under greater scrutiny, both for their long-standing crime problems in the mountainside slums, called favelas, and for their stewardship of the Amazon region, vital for the globe's environmental health.
" Brazil has always responded well to external pressure, so I believe issues related to Amazon, to safety, to governance, people in Brazil know we will be under not a microscope but more attention," said Paulo Sotero , a Brazilian who runs the Brazil Institute at the Woodrow Wilson International Center for Scholars , a research organization in Washington .
The Olympics are likely also to cement a long legacy for Lula, who helped bring down the dictatorship in the late 1980s and may go down as its most important contemporary leader.
"It seems almost like it is Brazil's decade. Lula keeps saying it is Brazil's century. ... It sure as hell is a good start of a last year in office for Lula," said Douglas Engle , a photographer and cameraman from Hendersonville, N.C. , who's spent more than a decade working in Rio. "It really makes his legacy. Even people who complained about him must admit this is pretty good."