China's football association said Friday it was investigating a violent clash between fans of a provincial team and police, the latest bout of unrest to hit the nation's beautiful game.
Fans of Henan province's Jianye football club battled riot police in the provincial capital of Zhengzhou on Wednesday night following their team's 2-0 home defeat to Jiangsu's Shuntian, the official Beijing Times reported.
More than 10 people were injured after fans threw stones at police outside the ground, demanding management fire those responsible. Some burned their tickets and others used fire extinguishers to fight police, the report said.
"The CFA (Chinese Football Association) is now looking into the situation," Dong Hua, a spokesman for the body, told AFP.
"Relevant departments will take measures according to the situation."
China has been hit by a number of violent incidents involving football fans, players and coaches after the end of the World Cup, the report said.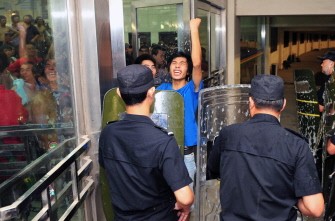 In a file picture taken on August 18, 2010 Chinese riot police move in on a group of angry football fans who rioted after Henan Jianye FC was defeated by Jiangsu Shuntian FC in their 2010 China Football Association (CFA) Super League match in Zhengzhou, central China's Henan province.
"Many fans are always getting into fights after matches, outside the venues, and this is related to social problems," Liu Dianqiu, head of the professional division of the CFA, was quoted as saying.
"The clubs need to reasonably communicate with fans and pay more attention to security."
China's football has also been plagued by a wide-ranging graft scandal that has seen scores of football officials and referees taken into police custody this year.
In January, former CFA head Nan Yong and two of his top lieutenants were taken in for questioning and later arrested for bribery and match-fixing.
Gambling, match-fixing, crooked referees and poor performances by China's national team have made the sport a source of chagrin for the nation's fans and a matter of mounting state concern.